Silksters Galleries - Knitting
Weaving with silk is fantastic!. If you've not woven with silk than you're missing out.
This Silksters Weaving are presents some of Treenway Silk's customers wonderful projects using silk.
Jackie Erickson–Schweltzer, Destrehan, Louisiana
Silk Smoke Ring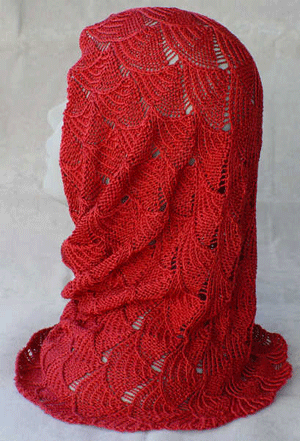 Jackie is a long time knitting enthusiast who shares her love of knitting and experience through guild groups, classes, networking with other fibre artists and her knitting pattern company, Heart Strings Fiber Arts at www.heartstringsfiberarts.com. With a background in music and mathematics, she enjoys capturing the melody of colour and texture and harmonizing it with style and function. Jackie's career in computer systems analysis provided the analytical framework evident in her intricate, yet simple, designs now showcased in her roster of patterns.
She used Treenway's 8/2 reeled silk yarn for HeartStrings knitting pattern #H28: Silk Smoke Ring.
Jackie writes:
"This smoke ring is knitted circularly to make a seamless tube. Although the lace pattern looks complicated, the spectacular results are accomplished with a stitch sequence that is repetitive and relatively easy. There are no special knitting techniques needed to make the fluted scallop edge – the shaping occurs naturally as a result of the bias structure of the lace pattern stitch. The inherent elasticity and drape of the semi–ribbed lace stitch pattern combined with luxurious silk makes this article a decorative yet functional addition to any outfit."
"Although smoke rings seem to be more traditionally made in subdued natural or grayed–down colors, I chose a fiery red, Treenway Silks #12, Pomegranate, for the published pattern model. After all, where there is smoke there is fire!"
Sized for small, medium and large. Planned finished measurements: circumference – 22.25, 24, 25,75; Length 17, 18 and 19. Allow 525, 600, 680 yards of lace or fingering weight yarn.
See Jackie's website for more patterns and a listing of store locations and to order on–line. Heart Strings Fiber Arts
Joanie Paterson, Salt Spring Island, British Columbia
Hand-spun and Knit Blanket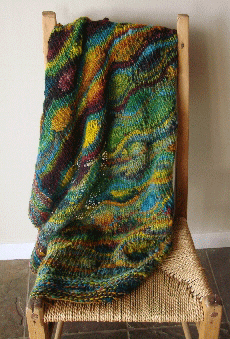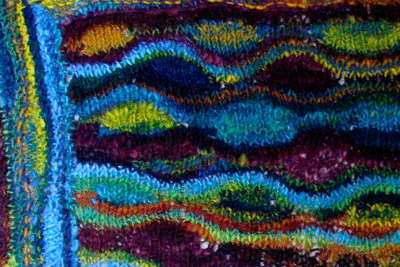 I spun my first yarn in my early twenties. I remember vividly romping through fields in Ontario collecting flowers to dye and spin...then mortgages and family got in the way and I went back to teaching. At 59, I have finally had the chance to return to the spinning wheel. I got a spinning wheel for Christmas and spent many a frustrating hour trying to get the 'darned thing to spin'. I finally relaxed into it, and began to search for rovings.
I arrived at Treenway one day and saw all the wonderful hand-dyed corriedale wool roving they had. I wanted something that was colourful, easy to spin and that reminded me of the sea. I began to spin the roving and couldn't stop, I loved it. I decided to knit the wool into a lizard ridge pattern because I felt it suited the roving that I had spun.
The whole project took about two weeks and Sue and Karen were amazed at how quickly the project was completed. I enjoyed every moment of it. The blanket is lightweight and warm, a perfect topping to a cup of tea, a good book and a fire on a fall evening.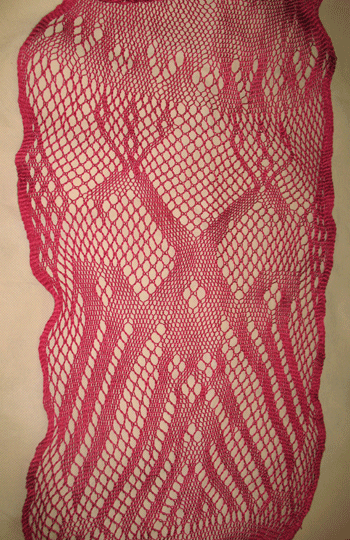 Learn more about Sprang
In principle, sprang may be regarded as a practical application of the fiber manipulation techniques used in the children's game known as cat's cradle.[1] Sprang is made by preparing a set of warp threads either on a rectangular frame or between a pair of beams. The craftsperson then generates a fabric by interlinking the warp threads. Unlike most textile production techniques that add new rows at the end of completed rows, sprang works upon the center of a group of fibers and the material grows inward from both ends with symmetrical top and bottom halves. [From Wikipedia]
Carol James, St. Boniface, Manitoba
Sprang
Carol delighted us with her silk sprang sashes when she walked in our door this summer. She has a lot of information about sprang to educate us. Sprang is a very ancient technique for creating cloth. Impressions on pottery shards from archaeological digs give evidence that it is among the very earliest textile techniques known to humans.
Let Carol tell you:
"I was introduced to the technique by friends who wanted me to recreate for them certain articles of military dress from the 1700s. Sprang sashes were owned and worn by Generals Richard Montgomery, Edward Braddock and George Washington."
"Akin to leno, the basic technique is worked on a frame. Vertical threads are twisted around the thread to the right, and then around the thread to the left. The resulting effect gives the impression of something very like chain-link fencing. Originally I set out to produce something that could be used as a military sash. I found the result most alluring. The sideways stretchiness is most amazing. I've created Viking headgear and small coin purses using the technique. Playing with patterns and rainbow dyed skeins. I've also made neck scarves and shawls."
"Originally using wool, massive amounts of sizing were required for the technique to work. Next I tried some pearl cotton, which worked much better. Treenway silk is indeed the perfect material. I've used both the 20/2 silk and the medium cord and then did some sort of rainbow-dye technique. Beads add a great deal. I dye a hank of silk in a series of bowls of different colours to create the rainbow. Then I re-wind the hank on a frame that is just a little bit larger (or smaller) than the dimension of the original hank. This causes a lovely diagonal stripe in the warp. A circular warp creates a 'spranged' cloth that is 's' on one side, and mirrored in 'z' on the other side, with a change line at mid-point. Indeed examination of museum specimens confirms the authenticity of this aspect of the technique."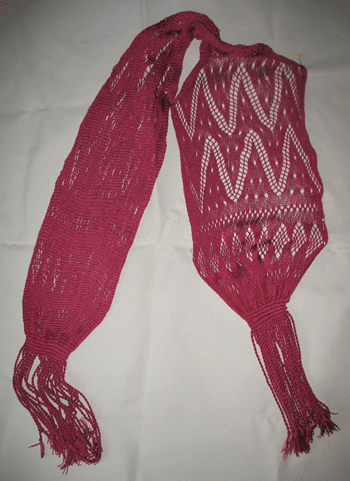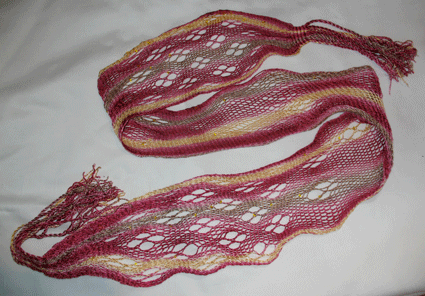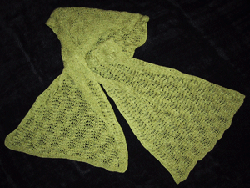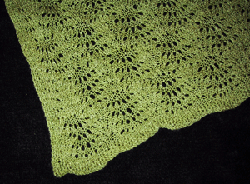 Tabi Ferguson Waterloo, Ontario
Silk Scarves
Tabi dropped in to see us in July and brought some of her work. We are always thrilled when that happens. She has kindly sent us photos so we could share them with you.
Both of the scarves are based on Ostrich Plumes lace pattern which can be found in many stitch dictionaries. Both are knit from 20/2 Treenway silk in colours 951 and 9510 with 2.75mm and 2.25mm needles respectively. The 20/2 is very easy to knit with especially on bamboo needles. It blocks well and has a beautiful drape. The green scarf has been worn for many years and still looks new. The mauve scarf was knit on commission for a friend's fiancée as an engagement present. Each scarf took approximately 80 hours to complete and exactly one skein of silk.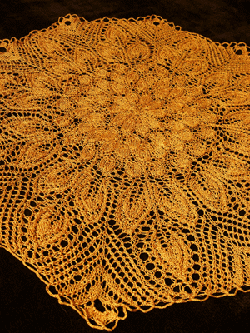 The lace doily was knit from 2P reeled silk on 2.25 mm needles. The pattern is 'Augsburg' from Diana Strickdeckchen D1098, a German lace knitting magazine. The 2P was a little slippery to work with, but has outstanding sheen and blocks beautifully.
Silk is my favourite fibre to work with and the Salt Spring Island colourways in particular shine through each blend and change with the light giving the handspun yarn life."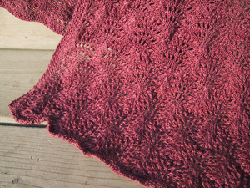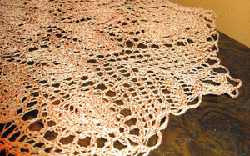 Joan Merrifield, Janesville, Wisconsin
Knit Socks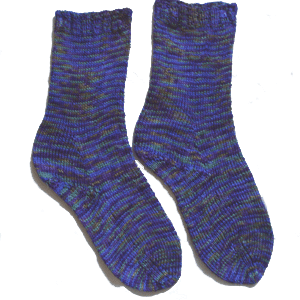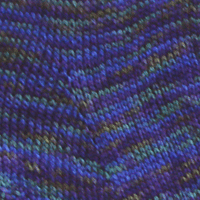 Last fall, 2007, Judy Fawcett organized a knitters retreat to Salt Spring Island with Lucy Neatby as the instructor. Joan was one of the knitters who came to the retreat. They all loaded into a bus one morning and came to visit Treenway. We had the large group divide into two. One group came to Karen's studio where we talked about the different varieties of silk and how they are made while the other group looked around the Treenway 'shop' and then we swapped.
Joan tells us a little about herself and her socks:
"I bought the 8/2 reeled silk yarn last year at the retreat. I have been knitting for over 40 years and I love to knit. I have knit over 150 pairs of socks for myself. I used size 0 needles, 64 stitches. The heel is Gerdine Strong's from Knitters magazine, Fall 2003."
"I am retired now after working with General Motors for 32 years. My other passion is travel. To travel with knitters is especially fine."