Who We Are
Weavers, spinners, knitters and stitchers are we.
Owned and operated by Susan Du Bois and Richard Yabunaka, Treenway Silks is a lively and energetic business in Lakewood, Colorado, USA.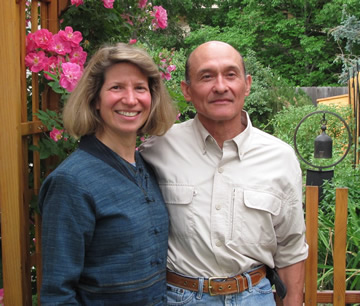 We are so very excited to have been selected by Karen and Terry to carry forward Treenway Silks' operations, effective August 1, 2011. The cornerstone of Treenway Silks is honesty, integrity and supplying the highest quality products and customer service. This will absolutely remain the same under our direction.

The extensive silk product line will remain the same, and beautiful dye colors will be created by three experienced Colorado dyers: Betsy, Pamela, and Peggy. Plus, Salt Spring Island dyers Cheryl and Mary will continue dyeing the lovely Montano series.

A little about us: Susan is experienced both in business and in the fiber arts. Her business experience includes 25 years in direct response marketing and financial analysis/accounting, plus she is a licensed CPA and holds three advanced degrees (MBA, MS-Accounting and MS-Marketing). Susan weaves, dyes, embroiders (she has taught silk ribbon embroidery), spins a little, and has dabbled in paper-making and felting.

Richard is well prepared to take on the shipping, having six years experience in product fulfillment. His interests include a wide variety martial art styles and he has the greenest thumb that you can imagine—keeping our yard filled with flowers and vegetables.

The most important members of our family are Kiku, our dog (a yellow-lab cross) and three beautiful cats (Yuki, Sumi, Neko) each with a distinct personality. The cats love to sit on my desk (do you think the treats I keep in the drawer is the reason?) and Kiku gets me up every morning for our daily walk around Crown Hill Lake—a beautiful and inspiring way to begin each day.

We look forward to getting to know you and inspiring your creativity with beautiful silk.

Forever in Silk—
Susan & Richard
---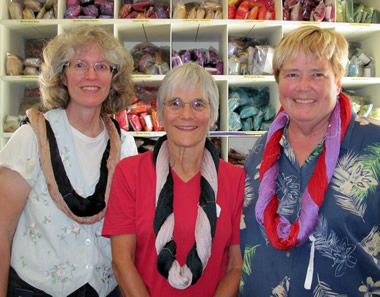 Our Dyers
The Salt Spring Island Dyers
Mary and Cheryl continue to bring their dye expertise to Treenway Silks. They dye the Montano series (74 hand-painted colorways developed especially for stitchers).
The Colorado Dyers
We have three dyers in Colorado: Betsy, Pamela and Peggy. All three bring a vast array of dye experience, totally nearly 60 years!
Peggy, Betsy and Pamela are wearing leis of their first Treenway Silks dyed skeins. (pictured here)
Founded in 1977
Treenway Silks was founded in 1997 by Karen Selk and Terry Nelson. After 34 years, they decided to sell the business so they could spend more time traveling, write a book, etc. Effective August 1, 2011, they sold the business to us, Susan Du Bois and Richard Yabunaka. And we've been living inside a rainbow ever since!
Karen Selk and Terry Nelson started Treenway Silks out of their home in British Columbia. Over they years they worked as a team learning about importing silk fibers, dying silk, and using silk creatively. All the while raising a family and being part of a vibrant northwest island community.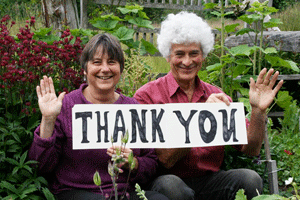 With Gratitude & Appreciation
We have been chatting with you by phone, letter, email and the newsletter for 35 years. We have had the time of our lives starting and nurturing Treenway and feel extremely grateful to have been selling such an amazing product as silk to such an amazing group of people. We sing your praises as the nicest people to do business with to other types of business folk. We have made mistakes and almost always you have been kind and understanding.
We thank you from the bottom of our hearts for all the support, kindness and laughter through the years. You are truly appreciated. It has been such a joy and we will miss you.,
Best wishes to you all,
Karen & Terry