RETAIL PRICES
Treenway Silks offer Hand-Dyed Tonal Colors and hand-painted Salt Spring Island Colorways in our A1 Quality Tussah sliver.
Hand-painted, hand-dyed…what does it all mean?
Hand-painted: the dyes are applied by hand the silk combed top (aka "sliver"), controlling exactly where each color is placed and the length (or amount) of each color. This process takes both patience and skill. Our Salt Spring Island colorways are hand-painted in Colorado.
Hand-dyed: the silk is immersed in a dye pot.

Our hand-dyed colors are wonderfully tonal, giving rich and varying depth of shade throughout the silk.

All our silks are hand-dyed in Colorado.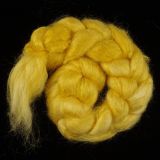 » click for more details