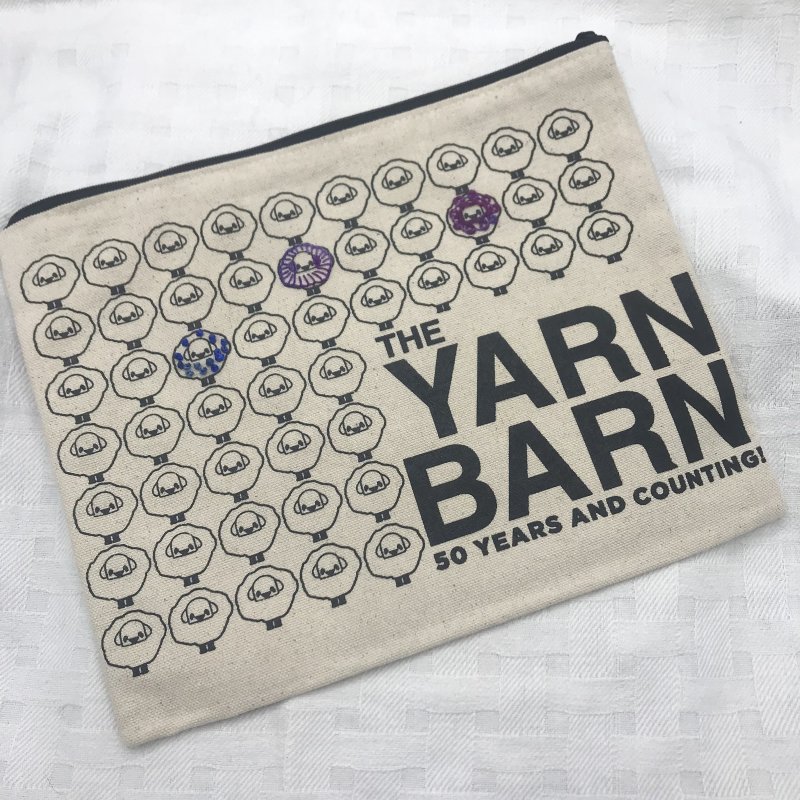 photo above: Yarn Barn's 50 years and counting Zippered [knitting] Needle Case is the perfect embellishment canvas!
Last month, when Susan and Jim, owners of Yarn Barn of Kansas, gave me their "50 years and going strong" zippered case, I thought "this will be perfect to embellish!"
I dug out my needles and silk threads, referred to the Royal School of Needlework (RSN) Stitch Bank, and started playing.
Left-most Sheep (see photo below): French Knots using Serenity silk thread, 65 Roses colorway "Rose Lake"
I learned French Knots as a child, so this was a good "warm up" stitch for me, as it had been a while since I'd picked up a needle.
I wanted large knots, to give a curly-wooly look for the sheep's body. I choose Serenity silk thread because it's thick and shiny.
I could have packed in quite a few more French Knots and completely covered the canvas...maybe I'll add more tonight.
I was concerned that the canvas might be a bit of a challenge to stitch through, but I used a new needle and it easily glided through the fabric. I found embellishing the bag to be a pleasure.
To see all 65 Roses colorways in Serenity silk thread, CLICK HERE
I love using 65 Roses (variegated) colorways whenever possible, as each purchase helps support research for a cure for cystic fibrosis. Here's the link to the story of our connection to cystic fibrosis.
Middle Sheep (see photo below): Buttonhole Wheels for the body and Detached Chain Stitch for the ears. Both stitches use Tranquility silk thread, 65 Roses colorway "Bleu Magenta".
My stitching confidence increased, so I was ready branch into something new, but still familiar. The Buttonhole Wheel was my inspiration. By the time I adapted the stitch to cover the sheep's wooly body but leaving its face free of embellishment, I realized I was really stitching my old favorite, the Blanket Stitch.
I knew I'd be making a lot of stitches in a small space, so I selected Tranquility silk thread--a thinner thread (about a size #10 perle) that has a lovely tightly twisted texture.
Mr Sheep's head looked a bit naked, so I added Detached Chain Stitch for his ears. We used to call it the "lazy daisy stitch" when I was little. One stitch with the thinner Tranquility didn't fill in the ears enough, so I did a second, smaller stitch inside the first one.
"Lazy" was a good name for me the evening I stitched my sheep. I should have switched to Serenity for the ears, but my needle was already threaded with Tranquility...so it was a "make it work" moment.
To see all 65 Roses colorways in Tranquility silk thread, CLICK HERE
Right-most Sheep (see photo below): Pekinese Stitch using Zen Shin color #52 for the running stitch and Harmony silk thread, 65 Roses colorway "Bleu Magenta" for the loops.
I was ready to try a completely new-to-me stitch...break out of my comfort zone. I perused the RSN Stitch Bank, using the Stitch Structure "Looped" view. (I love the many ways you can search the 250+ stitches--kudos to the database designers!)
I thought the Pekinese Stitch would give a "wooly look" to the sheep's body. Not only was this a totally new stitch to me, I further challenged myself by changing the straight line to a circle.
I wanted the running stitch to be in the background, so I selected Zen Shin thread, about a size #10 perle. Because Zen Shin is a 2-ply made with spun silk, it has a "quieter" look than the tightly twisted Tranquility. I also chose a hand-dyed color (rather than a 65 Roses variegated colorway) to keep the running stitch as a "background player".
I wanted the loops to be thick and colorful. I picked Harmony, our 6-strand silk floss. I used all 6 strands and did NOT separate the strands before I began stitching as I wanted the strands to be intertwined. Serenity silk thread would have been a great choice, too, but I wanted a less-shiny thread for this stitch.
To see all 65 Roses colorways in Harmony silk thread, CLICK HERE
To see all hand-dyed solid colors in Zen Shin silk thread, CLICK HERE
To get your own Sheep zippered case directly from Yarn Barn of Kansas, CLICK HERE (this takes you to Yarn Barn's website, friends of Treenway Silks)
Happy Stitching!