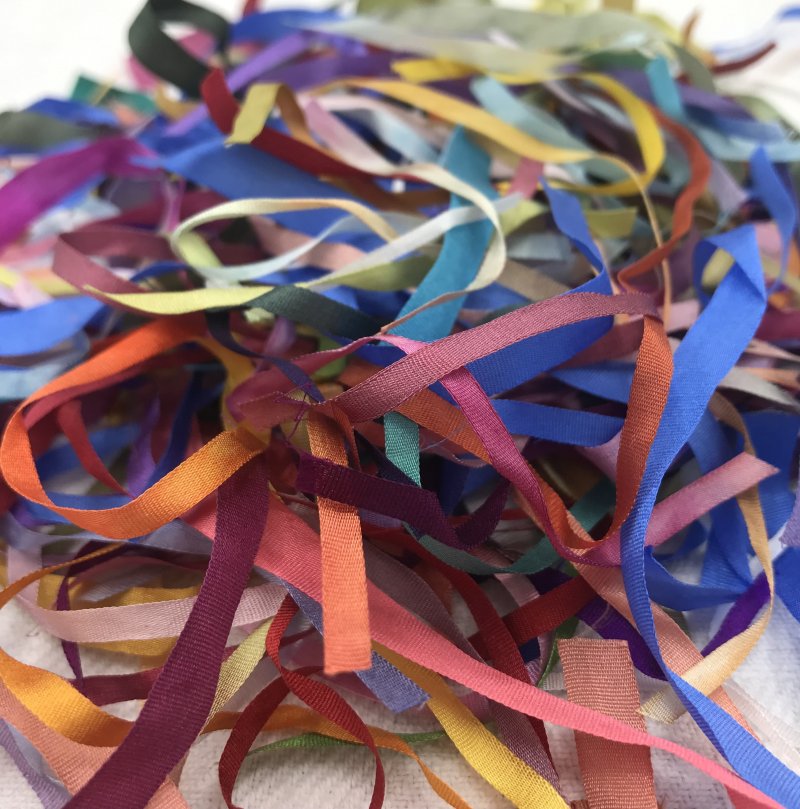 Ever been working on project and wish you had an assortment of colors of silk threads and ribbons? You don't need a lot of any color, but you want a lot of colors to find that "right one."
Here's what you've been looking for! Silk Confetti!
We have packaged up the short ends and pieces of our silk ribbons and our silk threads. Some lengths are really short--maybe an inch or two, but some may be a yard or more.
We offer Silk Ribbon Confetti and Silk Threads Confetti [see photo below].
The Silk Ribbon Confetti will have a mixture of 3.5mm and 7mm. There may be a piece of 13mm or 2mm in a few packages.
The Silk Threads Confetti will be a mixture of our threads--your package may have all 5 or just 3-4 types:
Harmony (6-strand silk floss)
Zen Shin (20/2 spun)
Serenity (8/2 reeled)
Tranquility (silk cord) or
Shinju, our newest thread--introduced in our June 2022 Newsletter.
Both the Ribbon and Threads Confetti pacakges include our hand-dye solid colors and our two variegated color lines: Montano and 65 Roses. Each package is a random mix of colors.
So...what can you do with those short pieces?
For ribbons, you can tack them down using French Knots..one at each end to make a "bar" or just one French Knot in the center, bunching several together, and trimming to the height that you want. The possibilities are endless!