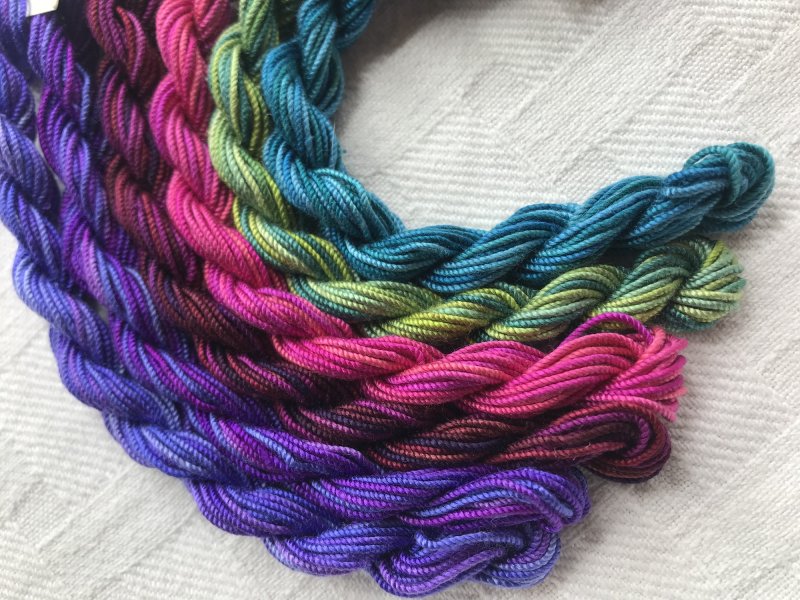 We are so excited to introduce our new thread "Shinju" which means "pearl" in Japanese.
We began working with our mill in China in September 2020, to create a tightly twisted thread with good sheen, that's about a size 5 perle. It takes a while to create a new thread!
We dye Shinju (and all our threads and ribbons) in Colorado. At this writing we have dyed Shinju in 23 out of 24 of our 65 Roses (variegated) colorways. We are in the process of hand-dyeing all 121 of our Treenway Silks solid colors—we will add to our webstore once we have about half of the colors dyed.
Shinju—100% Spun Silk, tightly twisted, 10 yards per skein.
--similar in size #5 perle
--3-ply thread, not designed to separate the strands
--precise twist aids in creating incredibly tight stitches
--the beauty of this thread is amplified when stitching knots, such as Bullion Knots, Bullion Loops, French Knots and Bullion Roses to name just a few
--suitable for decorative stitches on 13- or 18-mesh canvases
Shinju has enough "weight" that it's lovely for decorative stitches on wool applique...Sue Spargo, Mama Lohde, Midway Wools already use Shinju in their stitching. We're sure you'll love it, too!
Hand-dyed in Colorado—color fast. We use acid dyes with heat and then rinse until water runs clear.
Wash in cool/cold water.
The silk is from the Bombyx mori silk worm, often referred to as "mulberry" silk.
CLICK HERE to see all our Shinju colors.
65 Roses colorways in photo above, L-R: Love Song, Bleu Magenta, Munstead Wood, Magnifica, Hosta Garden and Islas de Rosario.