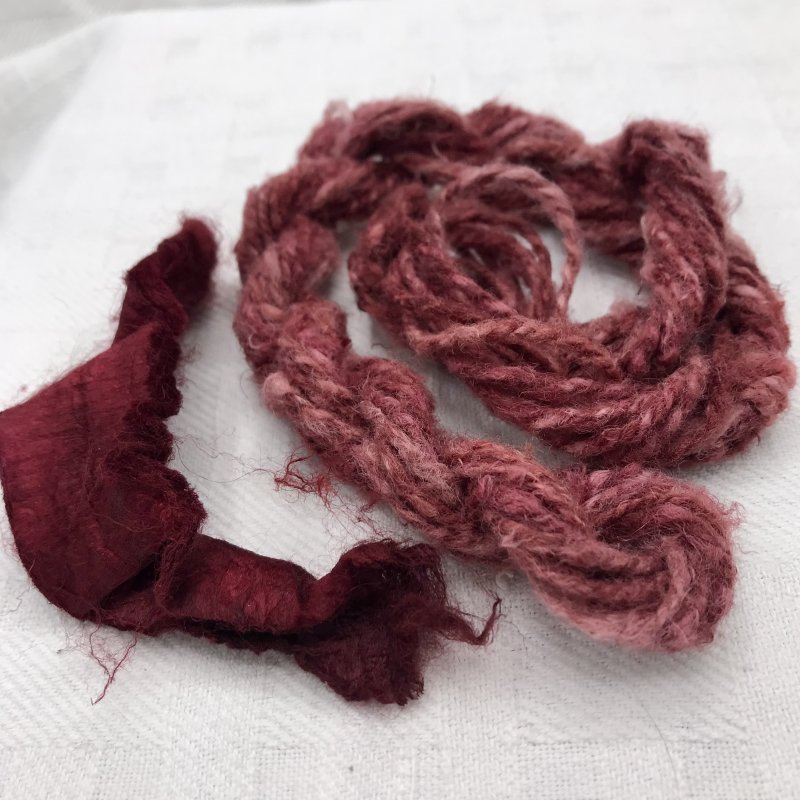 Photo above: Gage's silk yarn spun using dyed silk carrier rods "Cranberry." On the left is one of the carrier rods.
After reading our story about Silk Carrier Rods, my friend Gage was really intrigued with spinning them. Gage took a few "Cranberry" dyed silk carrier rods (color is always more fun!) and gave it a try.
Gage is Treenway Silks' helper and she packaged all of the carrier rods...as she said "after handling all of the dyed silk rods, how could I NOT want to play a bit?!"
GAGE'S OBSERVATIONS:
As expected, the silk carrier rod fibers are short, around one inch. This makes it different than spinning any other kind of silk. Gage compared spinning rods to spinning tow linen that is cut into short segments.
Unlike spinning other short fibers, the silk rods have enough "tooth" to hold the fibers together. This means Gage didn't find spinning silk rods as difficult as other short fibers.
Treenway Silks thoroughly washes the silk carrier rods before dyeing, but we don't scour it. This means that as you pull the thicker rods apart, the exposed "inner" fibers have less dye penetration. This produces lovely color gradations to yarn spun from silk carrier rods.
Gage made another comparison to linen: "It feels rough when you take it off the wheel, but it softens up a LOT when you wash it and pop the skein."
MORE ABOUT SPINNING RODS
There's a great article by the amazing Judith MacKenzie (I just love her!) in Spin Off Fall 2011 (p 68-71).
Judith spun her carrier rods with a short forward worsted draw, giving an interesting textured surface. This yarn is strong enough to use as warp.
Judith also spun the silk carrier rods using a woolen draw, producing a soft, delicate yarn that became quite even when plied on itself. This makes a lovely multiple-ply yarn that can be used for either knitting or as a weft yarn for weaving.
READY TO TRY SPINNING SOME RODS?
You can find all our silk carrier rods HERE
Send me a note about your experience. And, of course, a photo!