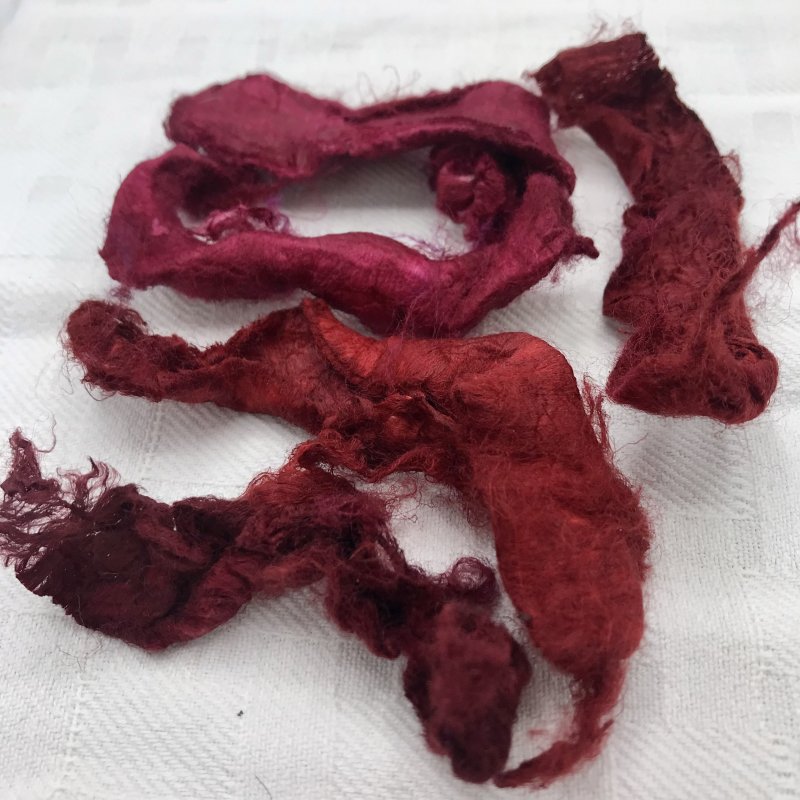 photo above: Hand-dyed silk carrier rods in "Cranberry" color.
Silk Carrier Rods are the by–product of reeling silk from the cocoon. As the silk filament is unwound from the cocoon into skein form, some of the filaments get wound around the machinery. This silk, with the sericin still in it, is then slit and removed. The rods are 5 – 5½" (13 – 15cm) long when whole and un-scrunched.
There may be some short pieces and fuzzy pieces in the mix. Sometimes the rods are cylindrical (showing the shape of the machinery rod) and sometimes they're thinner and have been pressed flat. These flat ones you can unfold, stretching them, like opening up an accordion.
Rods are wonderfully textural for stitching, silk fusion and any application needing depth. They can be pressed flat or pulled apart to reveal the interesting criss–cross of the fibers.
You can also tease them out and spin with them. Some of the dyed carrier rods are very soft and easy to tease out.
Want to see more? We have a YouTube video on carrier rods. You can view that HERE This includes some project ideas, including my favorite (see photo below of entire piece and 2 details), by Liz Kettle
These rods have so much personality, you won't know what you can do with them until you try!
To see all of our dyed rods, as well as natural, click HERE