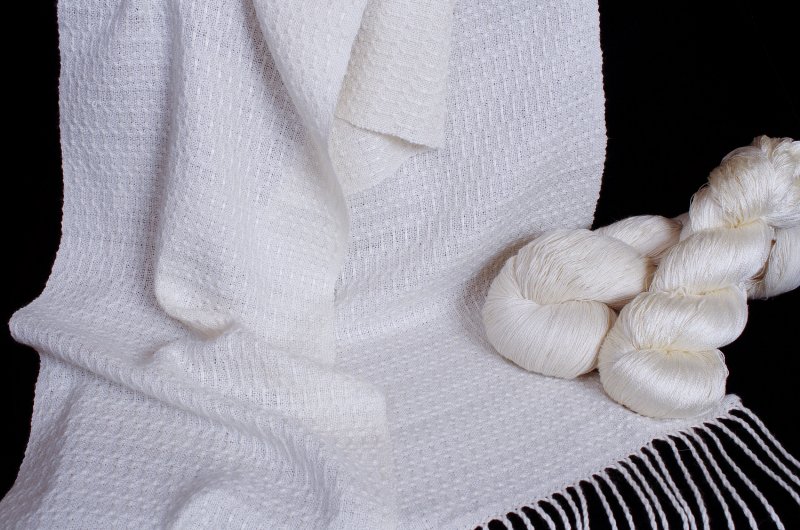 Photo above: Soft & Elegant weaving kit makes two silk scarves.
We had our first snow of the season last night. While admiring how beautiful a white landscape can be, my thoughts drifted to our "Soft and Elegant" silk scarves kit. Another example of the beauty, simplicity and elegance of all white.
This is a beautiful 4-shaft huck. We designed it using Taiyo (30/2) spun silk and Silken Ankara (30/2 silk/angora rabbit). Combining these two yarns give a wonderfully soft hand to the two scarves.
The longer vertical huck floats are in the smooth Taiyo, to give more light reflectivity and emphasis to the weave structure (see detail photo below).
Anyone on your gift-list would love getting one of these scarves--one customer wove it as an opera scarf for her son!
Love the look but want a color? Order the Soft & Elegant kit and then order dyeing services for two skeins. Dyeing both skeins the same color (light colors are traditionally suggested for huck lace) will provide the same elegance. Or you can choose to have us dye each skein a different color.
To see the Soft & Elegant draft immediately, click here and follow the steps to download it at FREE from our website. Scroll down to the 5th draft (click "Select Draft" box) and then scroll to bottom to fill out your info. A black and white copy of the draft is included with your kit.
Each kit makes TWO scarves, each scarf is approx. 9" wide, 72" long, sett 30 EPI.
Scarf woven by Eunice York (Denver, CO).