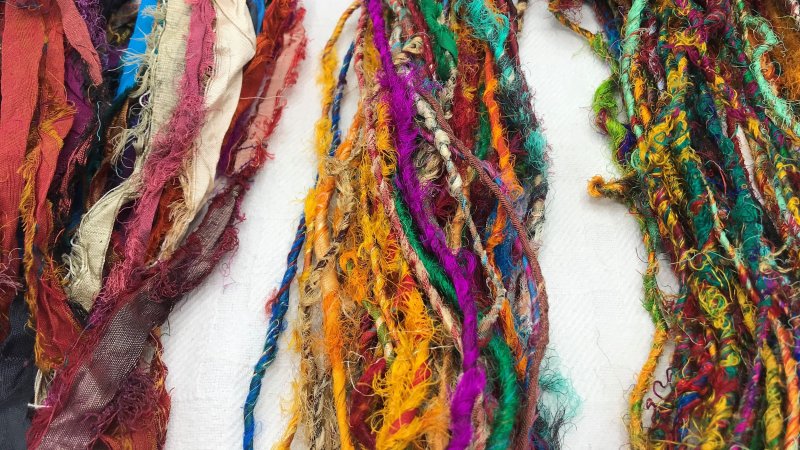 Sari Silk Ribbons (left), Sari Silk Yarn (center) and Recycled Silk Yarn (right)
We have three different sari silk products from India that are similar enough that I get questions about their differences.
Sari Silk Ribbons: These are strips of sari silks that have been sewn end-to-end to create colorful lengths of continuous silk. Our sari silks are from India and are made from the unused ends of sari fabric or other new, but discarded, sari fabric. You won't find dirty, worn-out silks in our sari ribbons.
You can weave with Sari Silk Ribbons. Beverly Weaver wove "Hit and Miss" runner [photo below] with Sari Silk Ribbons for Handwoven magazine's Jan/Feb 2014 issue (see pages 28-30). Each skein of Sari Silk Ribbons is a unique mix of colors--this can be relaxing to weave as there are no color decisions--just let the colors unfold before you on the loom.
You can knit with Sari Silk Ribbons. This is fun because you use size 35 knitting needles (think "tree branch size" if you're not a knitter) so the gauge is one stitch per inch. Our earlier post features Cheryl Oberle's secrets to beautiful finishing. [photo below]
Sari Silk Yarn: you can think of this as "spun sari ribbons." As you look closely at this yarn, you can see that it's made of woven strips and the frayed edges of the sari ribbons twist to give a bit of "softness" to the look.
Sari Silk Yarn is used in the darling "Jewel Bag", woven on a rigid heddle loom [photo below]. This project, by Whitney Dorband, was published in Little Looms 2018 issue (see pages 77, 86-87). Making kits for this project is "on the list" so if you'd like us move it to the top of the list, shoot me an email.
Recycled Silk Yarn: think of this as our sari silk fibers spun into yarn. The weaving thrums (loom waste) are gathered together to spin this Recycled Silk Yarn. The thrums are new silk but it is considered waste silk by the weaving mills. Rather than going into landfills, this "waste" is recycled and turned into silk yarn.
As with our other sari products, each skein of Recycled Silk Yarn is a unique blend of colors. Each spinner has their own style, so some skeins are thicker and a bit "wild" (like the one in the photo) and other skeins are skinnier and sleeker. I'll pull whatever is on the top of the pile, unless you indicate a preference.
Sue Bleiweiss used Recycled Silk Yarn in the beautiful Tote and iPad-folio [photo below] published in Handwoven magazine Sept/Oct 2007 digital "bags" issue (see pages 48-51). Sue includes terrific finishing steps, too.
Betsy Blumenthal went with the "accent" approach in Handwoven magazine's Jan/Feb 2014 issue (see pages 32-33). Rather than using plain weave, Betsy used a 3/1 tie up so that more of the Recycled Silk yarn showed through [photo below].
Tamara Leberer knitted a triangular "flap" for her hand-crafted purse[photo below].
This is a singles spun yarn and is relatively dense. Sue Bleisweiss used that to her advantage and wove a tote. Betsy opted to keep her final piece light so limited its use to accent stripes.
Comparing Sari Silk Yarn to Recycled Silk Yarn: the woven stripes in Sari Silk Yarn make it a bit stronger and less "springy" than the Recycled Silk Yarn. Both are best as weft yarns--the rustic unevenness of them makes them extremely challenging to use in the warp (that's my way of saying "I wouldn't use them in the warp).
For knitters, the Sari Silk Yarn is a bit stiff...it might work well for small items such as a knitted phone pouch where it's stiffness would be an asset. The Recycled Silk Yarn is best used for small projects or as knitted accent stripes in a wearable. If you tried to knit an adult-size sweater, the weight would cause the singles to stretch out and the length of your sweater would "grow."
To see our entire Sari Silks selections, CLICK HERE