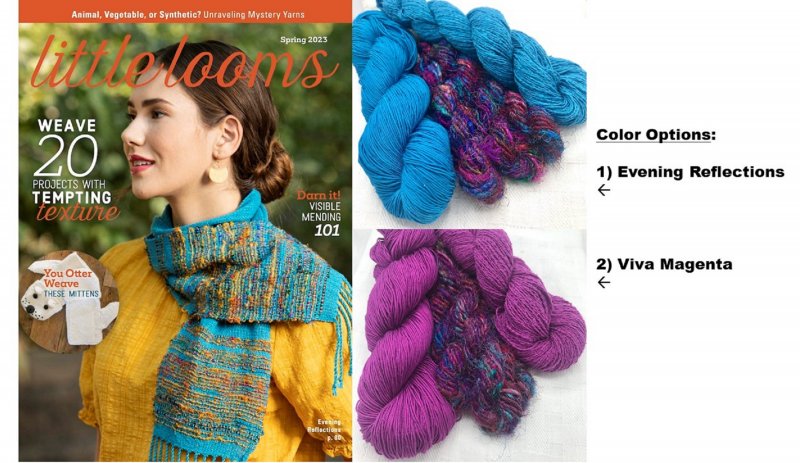 photo above: "Evening Reflections" silk scarf, designed by Peg MacMorris, is the Little Looms cover scarf! You choose which (or both!) color option you want to weave.
As always, Peg MacMorris creatively uses our silk yarns in amazing ways. She designed and wove a beautifully textured silk scarf!

We're not the only ones in love with Peg's creation--Little Looms editorial team selected "Evening Reflections" as the Spring 2023 cover scarf! You'll find project photos on page 80 and instructions on page 86.
RECYCLED SILK YARN
"Evening Reflections" silk scarf's texture comes from our Recycled Silk Yarn, which is spun by Village Artisans in India. Our Recycled Silk Yarn is made from "never-used" silk, but it is called "recycled silk" because the Artisans use silk weaving thrums and other ends of silk skeins that would otherwise be discarded.
Each skein of Recycled Silk is a unique blend of colors. Some skeins include every color of the rainbow; some are predominately one color family. I've sorted through our entire stock of Recycled Silk Yarn (about 100 lbs!) and every skein is has a lot of reds or magentas.
The Recycled Silk Yarn in your kit will be different, but similar to, the ones in the center of the turquoise yarns photo (left) and the Magenta yarns photo (right)
WEAVING KIT
To help you get started quickly, we have created a "Evening Reflections" Silk Scarf Kit for you with all of the silk you need to weave your scarf. The scarf kit includes three different 100% silk yarns: Kazoku, Alirio-Thicker (silk noil) and our Recycled Silk Yarn.
Kazoku, used in the warp, is our newest yarn and it has a wonderful sheen. It is quickly becoming a rigid heddle favorite!
The weft uses Alirio-Thicker (silk noil) which is matte and somewhat rugged yarn.
These two beautiful, contrasting yarns, dyed the same hue, pair wonderfully together. The Recycled Silk Yarn supplies texture, pizazz and makes each scarf uniquely yours.
***The yarn for the weaving kit is designed for using a rigid heddle loom. The advantage of RH over a mulit-shaft loom is there is very little loom waste. If you want to weaving on your multi-shaft loom, call us as you'll more silk for your warp (additional cost). We can calculate it for you.
We love what Peg created so much, that we have already dyed a second color scheme--Viva Magenta. Viva Magenta is the 2023 Pantone Color of the Year--wear it fashionably! You can see both color options in the photos below.
Finished size (after wet finishing) is 7" wide by 66", plus 4" twisted fringe.