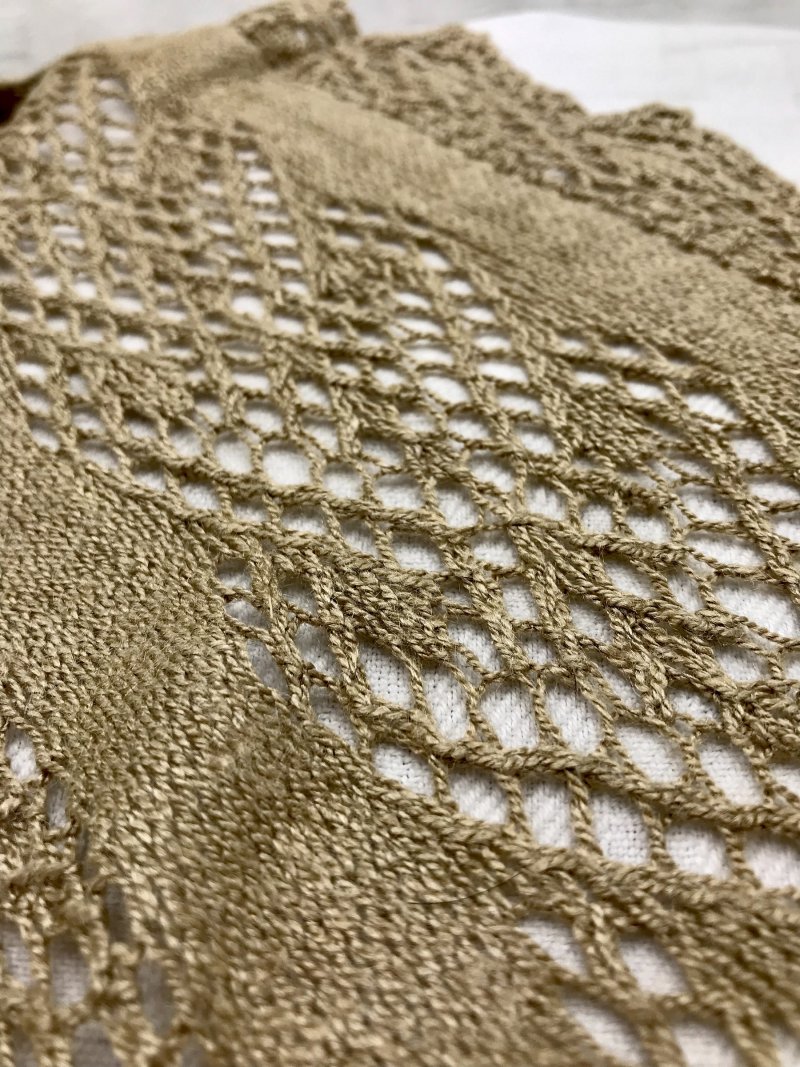 Photo above: Carmela (15/2 Muga Silk) knitted by Susan Hamel, using Anne Hanson's Swan's Wake pattern.
Muga Silk, reared ONLY in the Assam region of India, is one of my favorite silks. The naturally golden color is amazing--there's nothing like it!
We have organic spun Muga Silk yarn in two sizes: Carmelina (30/2) and Carmela (15/2).
Both sizes can be used for weaving or knitting, although Carmela (lace weight) is usually the muga silk that knitters select.
MUGA SILK
You can read about muga in our Rare Find Reeled Muga Silk story.
KNITTING
Carmela silk yarn was developed in collaboration with Anne Hanson, premier knitting designer. Anne created 'Swan's Wake' pattern for Carmela. As with all of Anne's patterns, size variations are included. You can purchase the pattern from Anne's website HERE.
You can take your favorite knitting pattern, especially those that suggest a cotton lace-weight yarn, and substitute Carmela. The elasticity of silk is similar to that of cotton--definitely less than you will find with wool yarns.
WEAVING with Carmelina (30/2 spun Muga Silk):
1) Natural Elegance in Twill: Beautiful and luxurious yarns bring sophisticated elegance to simple structures. One outstanding example is Judy Stewart's Natural Elegance in Handwoven magazine May/June 2022 issue, page 59-61.

Judy combined Carmelina (30/2 Muga silk) and Silken Cloud (30/2, blend of 50% bombyx silk/50% yak) in an 8-shaft twill. These are two of my favorite yarns--I can't believe it took this long to combine them! Both yarns are the natural color of the silk and yak.
2) Shalimar: Basket weave ground cloth using naturally golden organic Muga silk, with overshot boarders and overshot inlay motifs. This amazing scarf, designed and woven by Anu Bhatia, needs only 4 shafts.
The Shalimar weaving kit includes detailed instructions with step-by-step photography, PLUS a YouTube video showing Anu weaving one of the motifs.
WEAVING with Carmela (15/2 spun Muga silk)
1) Anu used Carmela as a supplemental warp with two colors of Zola as the ground cloth in "Sweet Peony Shawl" featured in Handwoven Magazine, Jan/Feb 2020 "A Sense of Place" issue, pages 50-52 (see photo below).
Does "supplemental warp" sound scary? It always did to me until I was motivated to try it and found it was actually easy with a short warp (I don't have a double back beam, and for a single-shawl warp, I don't feel it's necessary). Anu provides great directions.
2) Betsy Blumenthal created a beautiful Color and Weave scarf using hand-dyed Zola silk and natural Carmela (p 20-32), in the Handwoven November/December 2015 issue.
What makes Betsy's 4-shaft scarf exceptionally lovely is she used one shade of red in the warp and a different shade of red in the weft. Using two different reds creates a richness and depth of color to the scarf.
Love to create your own design from a weaving recipe? We do to!
3) Betsy Blumenthal paired two natural silks--Carmela (15/2 muga silk) with Zola (12/2 bombyx silk)--using a simple 4-shaft Herringbone Diamond (see photo below). This 4-shaft draft is in the Davison book-green hardback version-page 25 "Large Herringbone"
You can create your own personalized version of any of these scarves/shawls, by selecting Zola in one or two shades of your favorite color and pair with Carmela.
to order Carmela, click here
to order Zola in Color Now! (already dyed)
Not seeing your favorite color(s)? No worries, we are happy to dye what you want
first order your skein(s) of undyed Zola here
then order your dyeing service here
4) Here are two pieces of eye-candy, designed and woven by Sandra Hutton. Sandra has a 32 shaft loom and used nearly all of them to create this masterpiece. She paired Kundana (35/2) tussah silk with Carmela (see photo below). Sandra wove the beautiful scarf, creating soft curves visible at the distance--then great curlicue details up close. Sandra also created the gorgeous phone-size bag, using a zig-zag design; plus like the scarf, great details up close.