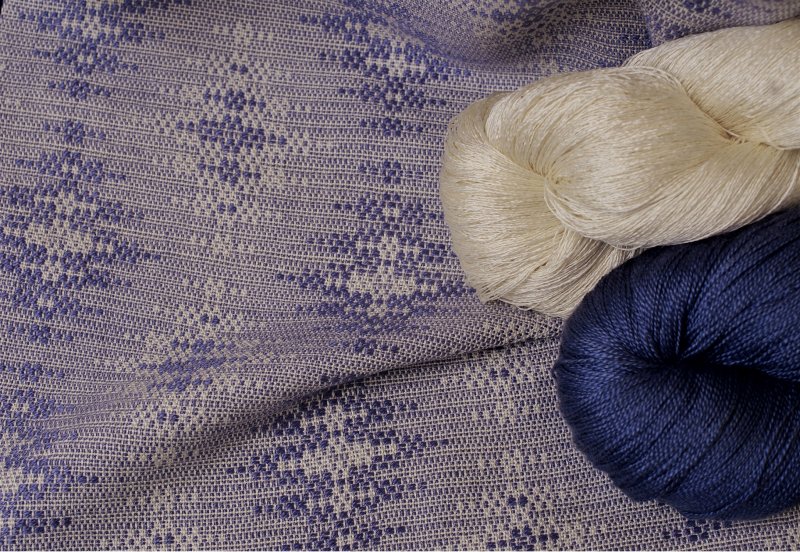 Do you want to try combining a cabled yarn and a 2-ply yarn in one project?
This crackle structure, woven as overshot, uses Gekkō (60/2x2), a cabled 100% silk yarn in natural white, for the warp and the ground weft (also referred to as "tabby weft"). Kiku (20/2 spun silk), a plied yarn, is the pattern weft. We used #956 Periwinkle, but you can select any color you want.
Note that crackle has a unique "background" that's different than a plain weave. Because the pattern weft "peeks through" in the background areas, you'll want to consider what color pattern weft you use (would red look like it was bleeding? maybe, maybe not).
This free draft is based upon the draft by Susan Wilson, published in "A Handweaver's Book of 8-shaft Patterns from the Friends of Handwoven", edited by Carol Strickler. Susan's draft is #499 (on page 137 of my hardcover book).
Our free draft has figured all the repeats, the yarn calculations, sett and picks per inch (PPI) for you.
Sandra Hutton wove this for Treenway Silks. Sandra always tests the sett and PPI, so you can have great confidence weaving this.
We deliberately selected Gekkō (60/2x2) for the warp and tabby weft, rather than Taiyō (30/2), as we felt the cabled Gekkō yarn would be a great background, letting the 2-ply pattern weft really stand out. I love the results!
Are you willing to experiment? Try substituting Silken Cloud (60/2x2), 70% silk/30% cotton for Gekkō. Silken Cloud is a creamier white than Gekkō. Or you can order it dyed (ground cloth doesn't have to be white!)
Click here to download the free draft. Ice Crystals is at the very bottom of the list of free drafts.
Once you make your selections and complete your info, you'll get an immediate, automatically generated email from drafts@treenwaysilks.com with the link to download the PDF(s) of your draft(s). ***If you don't find that email in your inbox, check your spam/junk folder or your promotions folder.***