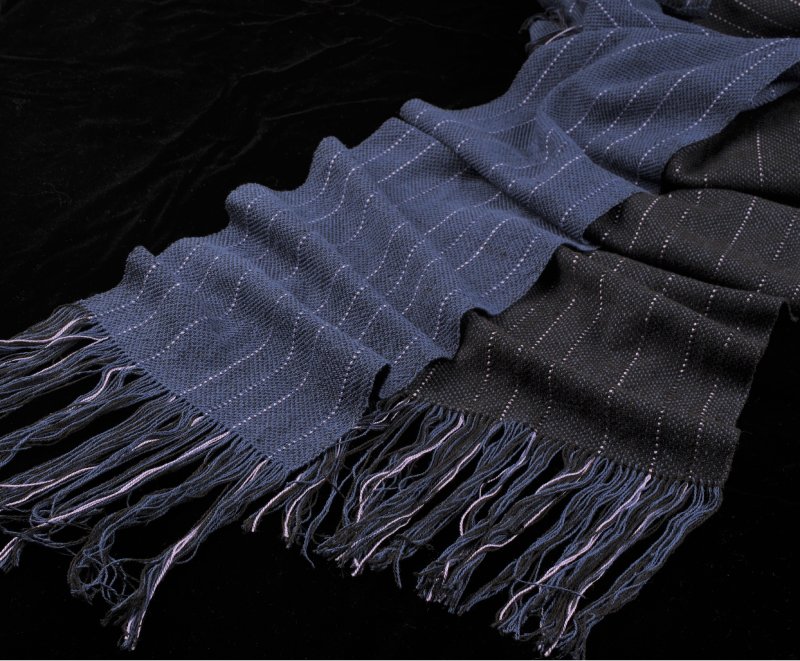 photo (above) "Two Sides of the Moon, designed and woven by Robin Wilton, using Alirio-Thinner (silk noil), colors #4 Rendezvous Blue and #57 Raven Black
Robin Wilton knocked one out of the park when she created this 4-shaft silk scarves design. You can weave it with either
Alirio-Thinner (20/2 noil) a very affordable silk (see photo above) or
Kiku (20/2 silk), our most popular silk (see photos below).
By alternating two colors in the warp (colors #4 Rendezvous Blue and #57 Raven Black), then weaving the first scarf with #4 Rendezvous Blue, and the second scarf with #57 Raven Black, you get two different looks from the same warp.
This is an easy threading and only needs 199 ends. It weaves up quickly, using a single shuttle. You can weave a special gift for someone (including yourself!) in no time at all.
The draft shows even-width point twill stripes, but you can make them random widths, as Robin has woven hers, for a bit more fun.
Using either similar-value colors in the warp or high-contrast colors in the warp work equally well with this versatile design.
The accent stripes are a great opportunity to go "shopping" in your stash. The stripes can be any color, fiber (cotton or silk).
If you choose a thicker grist yarn, you just need 35 yards.
If you choose a thinner grist yarn, then double it and treat as one end when threading your loom. You'll need 70 yards
Our 2 Skeins = 2 Scarves(TM) free drafts are so easy and more personalized than a kit--
--Choose your favorite draft
--Choose your favorite colors
--Purchase two skeins, plus use 35-70 yards of yarn from your own stash for the accent stripe
--Weave two scarves
To download the free draft, CLICK HERE
NOTE--the 4-shaft drafts are listed first, in alphabetical order; the 8-shaft drafts are last, also in alphabetical order.
Select which draft(s) you wish to get. Follow the steps at the bottom of the listings.
To see our Color Now! (already dyed colors) of Alirio-thinner, CLICK HERE (there are 3 sizes of silk noil, you'll want THINNER to use with this draft)
Want Natural White Alirio-Thinner? CLICK HERE
To see our Color Now! (already dyed colors) of Kiku, CLICK HERE