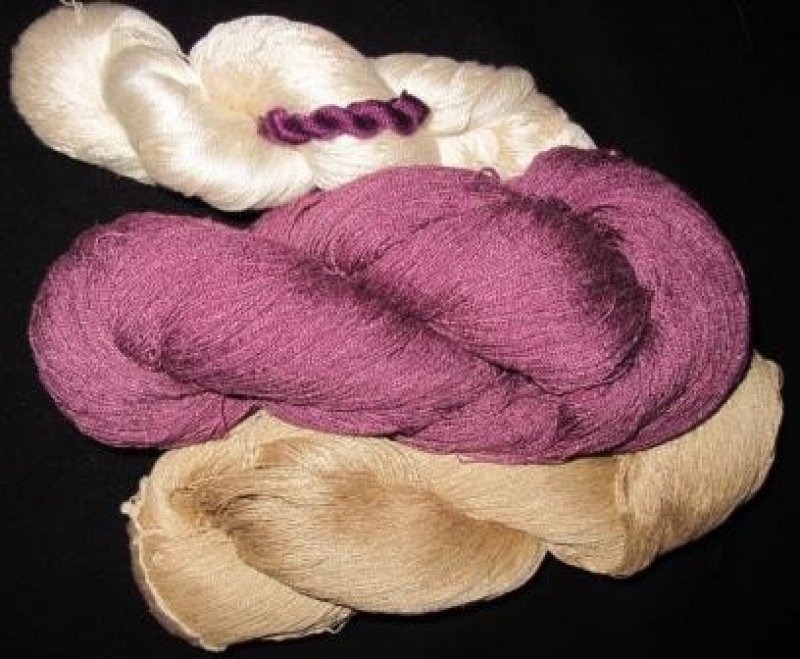 Can Muga Silk be dyed?
Donna, one of my muga-loving friends sent me a link to a very knowledgeable website which said "Due to its low porosity, the Muga yarn cannot be bleached or dyed and its natural golden color is retained."
Hmmm. I wonder if that's true? Treenway Silks has Muga Spun Silk yarn, so of course, we had to try dyeing it!
Betsy, one of Treenway Silks' original Colorado dyers, embraced the experiment. She followed all our standard preparation and dyeing steps. First she dyed one skein color #958 Gypsy Passion (red-violet).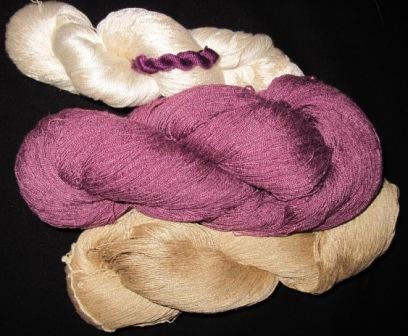 The photo shows (top-to-bottom):
Bombyx spun silk (natural) with a mini-skein of bombyx silk dyed color #958 Gypsy Passion;
Carmelina (muga silk) dyed color #958 Gypsy Passion;
Carmelina (muga silk) in it's natura golden color.
As you can see from the photo, the muga silk dyed beautifully!
The color "shifted" a bit as expected--it has golden undertones--but you can definitely tell it is the same color.
Next Betsy took a skein of Kiku (20/2 Bombyx silk) and a skein of Carmelina (muga silk) and put both into the SAME dyepot--color #958 Periwinkle. Periwinkle has a lot of blue in it, so while the muga took the dye, this color shift was dramatic:
The dyed muga (top s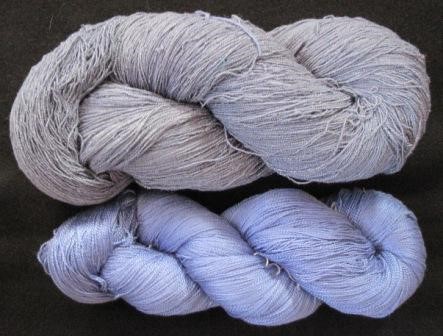 kein) is basically gray, compared to the periwinkle Bombyx yarn (bottom skein).
This is because gold, the natural color of muga silk, is a complementary color (across the color wheel) to periwinkle (blue-violet). Mixing complementary colors together produces a grey or brown color.
Betsy put it this way: "Since the muga is golden to begin with, then greens, blues, indigos and blue-violet colors (opposites on the color wheel) will have the biggest color shifts. You'll get something closer to what you expect dyeing muga silk one of our red, orange, yellow or brown colors."
So, do you think we stopped there? Of course not!
We feel a bit like the Discovery Channel Mythbusters show: muga silk does dye!
We have two muga silk yarns: Carmelina (30/2) and Carmela (15/2). When ordering either of the Muga silks, you can add dyeing services, if you wish.