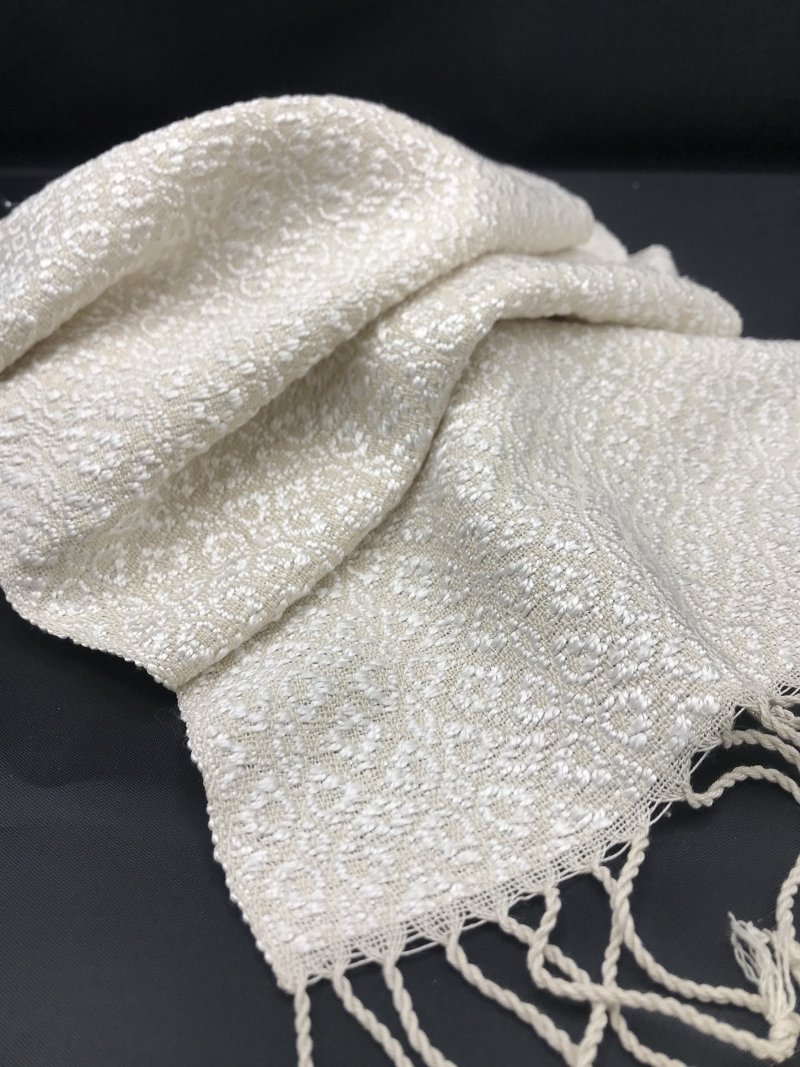 Diane de Souza has an affinity for simple elegance and all things natural. We were traveling together after a TNNA show and we started talking about contrasts...white vs cream, shiny vs matte.
Diane was inspired to interpret both contrasts in one lovely scarf...and it's just stunning!
For matte and creamy, Diane selected Yōmō, our silk/wool blend. It's 60/4, but behaves "skinnier" than you would expect since it's tightly twisted. For a snowy white and shiny silk, Diane was immediately drawn to Yuki, 100% reeled silk.
The next step was to decide on weave structure. Diane has always been drawn to overshot...and with the right sett and PPI (picks per inch), overshot can make a lovely scarf with beautiful drape.
Diane sett this open, just 28 EPI. No special handling for Yomo was required to prepare the warp and wind bobbins for the weft.
Traditionally, overshot is woven balanced, meaning the same PPI as EPI (ends per inch). However, Yuki is much thicker than the traditional pattern weft, so Diane adjusted her pattern PPI to ensure a 45-degree weft angle, and used a light hand on the beater bar. PPI is 22 (11 pattern, 11 tabby).
Scarf drape is also improved if the tabby weft is not as dense as for traditional overshot. This is very open when weaving, so pay strict attention to your PPI or you'll end up with a stiff scarf.
Tip from Diane: Yuki should be kept under tension when winding onto the bobbin and it can snag, so make sure hands, equipment and anything in contact with the yarn is smooth.
This scarf is lovely, understated elegance.
CLICK HERE to see the kit