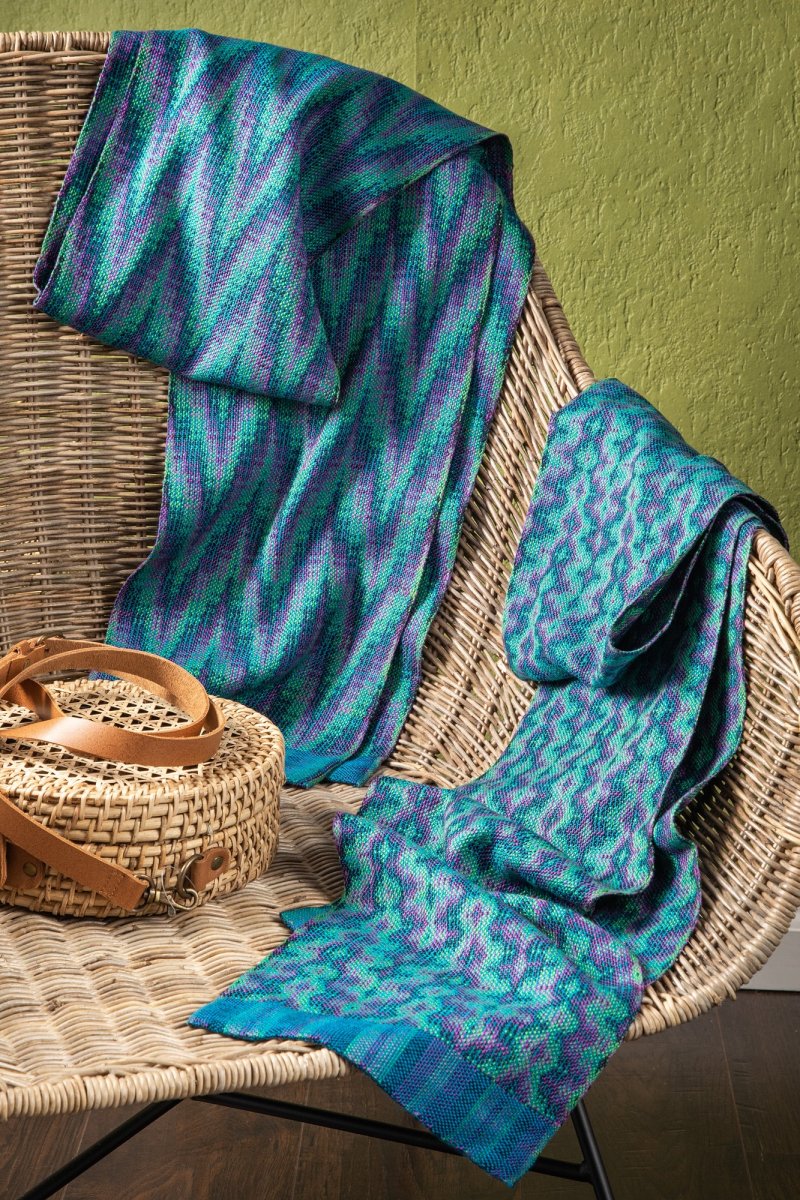 photo above: "65 Roses Take 2" silk scarves, featured in Handwoven magazine Nov/Dec 2022 issue. photo credit: Long Thread Media (thank you for the use of your photo)
LIMITED EDITION 8-Shaft, "65 Roses Take 2" Silk Scarves Weaving Kit
To order you kit, CLICK HERE Please note that as of today (10/7), we have enough silk dyed for 6 kits, soon to be 12 kits by the end of October.
Featured in Handwoven Nov/Dec 2022 are our "65 Roses Take 2" Scarves, (100% silk, of course!), a collaboration between Robin Wilton & Susan Du Bois.
If you don't have your issue yet--I don't yet either--hang tight, it will be arriving soon!
***Treenway Silks donates a minimum of 10% of sales of the 65 Roses Silk Scarves Kit in honor of Andrea's angels to help find a cure for CF***
KIT:
This draft is sett at 40 EPI. The structure is polychrome "Jin" also known as "Turned Taquete." There are 3 colors in the warp and one color in the weft.
The kit includes two treadling options:
you can weave one of each for two different looks or
if you really love one treading, you can weave both scarves the same.
Your Limited Edition 8-shaft, 100% Silk "65 Roses Take 2" kit makes TWO scarves (each scarf is approx 8.5" wide and 72" long and includes:
OPTION #1 (#18 Dragonfly Weft, as featured in Handwoven N/D 2022):
788 yds (72g) of Kiku (20/2) silk yarn, color # 57 Raven Black
788 yds (72g) of Kiku (20/2) silk yarn, color #314 Leap Frog (green)
788 yds (72g) of Kiku (20/2) silk yarn, color #418.D Magenta
127 yds (12g) of Kiku (20/2) silk yarn, color # 18 Dragonfly (weft for hems)
1,546 yds (94g) of Gekko (60/2x2 cabled silk yarn*), color #18 Dragonfly (weft for body of scarves)
If you need a copy of of Handwoven N/D 2022 issue, that's an option (see drop down box selection)
*What's cabled silk yarn? CLICK HERE to read Treenway Silks' "I ♥ Yarn" newsletter story, August 2022.
OPTION #2: On the same warp, we also sampled a wonderful purple weft, #219 Silk Pajamas.
We've not yet dyed kits with this weft color, but if you love purple, email me at info@treenwaysilks.com and we will move that to the top of the dye queue and add that to our options.
To order you kit, CLICK HERE. Please note that as of today, we have enough silk dyed for 6 kits, soon to be 12 kits. We will dye more once I'm back from my October travels.
THE 65 ROSES BACK STORY:
This project is near and dear to my heart...over 25 years ago, Susie Rider and I worked together while she was pregnant with her first child, Andrea. When Andrea was about 4.5 years old, her "failure to thrive" was finally diagnosed as cystic fibrosis (CF), an incurable disease.
What inspires me to support Andrea's angels is Susie channeled her grief and pain over Andrea's diagnosis into fighting for a cure. Susie organized Andrea's angels (Aa) and has been tirelessly raising funds for the Cystic Fibrosis Foundation for a cure ever since!!
You don't realize it, but you also "know" Susie, too, as she designed the Treenway Silks logo and she designs all our print ads and other graphic needs.
Handwoven magazine's "What if" issue, was the inspiration to create a second 65 Roses scarf...hence the "Take 2". What a great idea for a fundraising project!
CREATING THE DRAFTS BACK STORY:
For Handwoven's 40th anniversary issue (S/O 2019 issue), I designed our first "65 Roses" scarf, using "#65 RosesAa" name draft woven as crackle, as a fundraiser for the Cystic Fibrosis Foundation. "65 Roses" is what young children often say when trying to pronounce the name of their disease.
Some "what if's" have been teasing my brain since then, while planning a new fundraising scarf design. What if I took the profile draft and wove it as a different structure? What if I used jewel tone colors? What if I used 8-shaft polychrome Jin for the structure?
I love the drape that Jin structure gives to scarves. Short float lengths (no more than 3 ends in warp and weft) make it great for wearables.
I started with the original 4s profile draft from our first 65 Roses scarf to adapt to 8-shafts. I quickly found that quite a bit of "creative license" was needed to create an interesting design.
Jin is traditionally a 2-color "opposites" warp, but I wanted a more colorful, jewel tones scarf, I followed Bonnie Inouye's example of Jin polychrome warp (three colors), a design first for me.
Another reason I love the Jin structure is the optical color blending. Colors in skeins can change dramatically as they intersect. Computer software is an invaluable tool to audition warp and weft colors to find "contenders" worthy of sampling on the loom.
Robin, a talented weaver and friend, embraced the challenge of warping and sampling five weft colors and two treadling designs. Another "what if"…what if our first choices are different? And of course they are—both weft color and treadling choice! Our different viewpoints is one of the many reasons I love collaborating with Robin.
We solved by weaving TWO scarves, one in each of the two treadling designs. Robin wove both scarves in #18 Dragonfly weft color, but she wove a good size sample in her favorite purple.