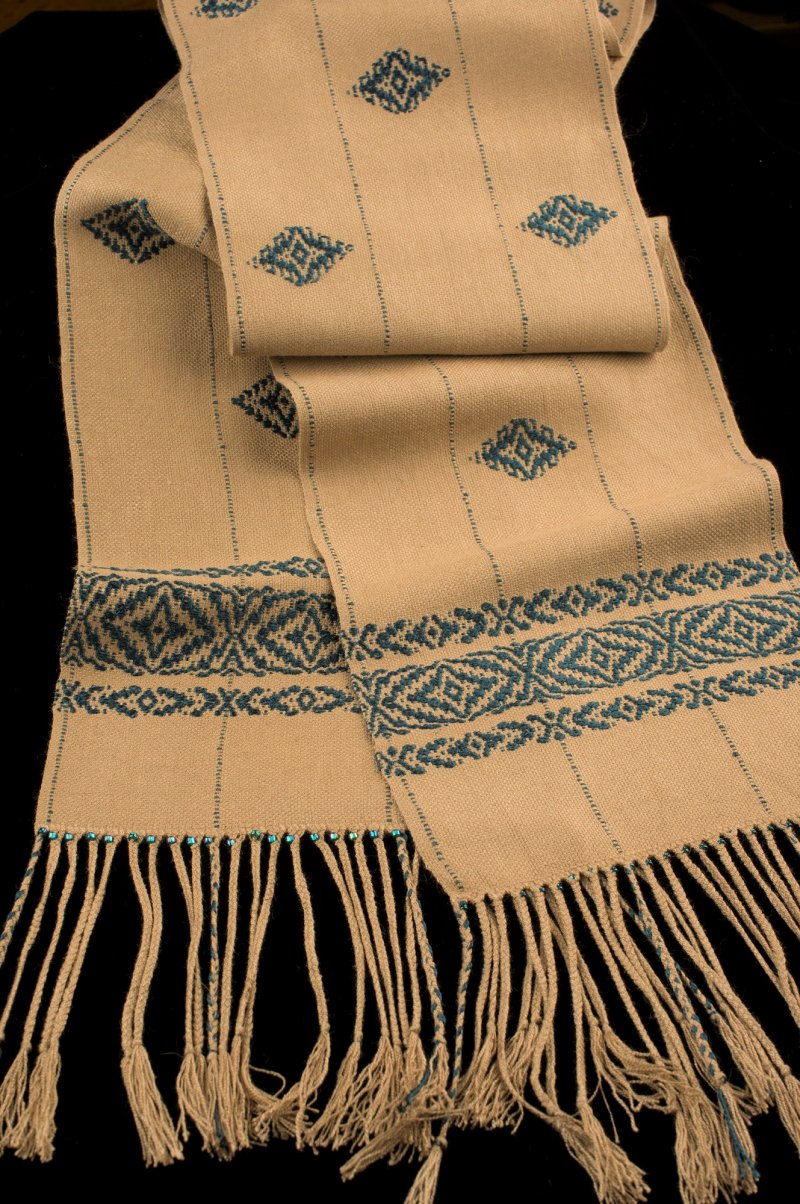 Photo above: Limited Edition 4-Shaft, "Shalimar" Silk Scarf Weaving Kit, designed and woven by Anu Bhatia
see more photos below in the gallery.
**A Treenway Silks Exclusive**
One day Anu and I were chatting about creativity and our latest projects. Anu was playing with inlay technique, inspired by traditional Kashmir shawls. We always think Kashmir shawls are made from cashmere or wool...but they are also made with silk.
Anu said she wanted to try weaving a scarf with an overshot border with inlay motifs. She had a vision of using organic muga silk for the ground cloth.
Muga silk is so lovely--the silk worms create the golden color, and you can't match the glow of the color with dyes.
I mentioned I had a lovely color, #321 Teal Ocean, that I thought would pair spectacularly with Muga Silk.
One thing lead to another and Anu graciously agreed to create a silk scarf design *exclusively* for Treenway Silks.
And wow, Anu surpassed all my expectations!! But then, she always does :-)
Anu, creative soul that she is, created the scarf using Carmelina (30/2 organic muga) for the ground cloth, in a basket-weave structure...something I would never have thought to do.
Anu had the option of using Carmela (15/2 organic muga) as plain weave for the ground cloth, but opted to go with the basket weave, which adds a subtle interest to the ground cloth. "I think the two "skinnier" ends of Carmelina (vs one "fatter" end of Carmela) creates a smoother ground cloth, which makes the lovely Yuki yarn, used for the pattern weft for the overshot and the inlay motifs, be more prominent." Regardless of the theory behind the decisions, the outcome is stunning!
Anu named the scarf "Shalimar" after the beautiful garden in India.
ABOUT THE WEAVING KIT:
Basketweave ground cloth using naturally golden organic Muga silk, with overshot boarders and overshot inlay motif
The kit includes:
1,138 yds ( 116g) of Carmelina (30/2 organic Muga silk)
133 yds (22g) of Yuki (8/2 reeled Bombyx silk, aka "mulberry silk"), color #321 Teal Ocean
Teal glass seed beads, size 6 or size 5, for fringe
Detailed instructions with step-by-step photography, PLUS a YouTube video showing Anu weaving one of the motifs.
Anu suggests an 8 dent reed for your 4-shaft loom...you'll sley 4 ends per dent (32 EPI) for a total of 336 ends.
Finished 100% silk scarf is 8.5 inches wide by 63 woven inches. There's a 5.75 inch braided and beaded fringe on each end.
Scarf designed and woven by Anu Bhatia
images 1-3 taken by Treenway Silks' photographer Thom Harrod;
image 4 (on mannequin) by Anu Bhatia