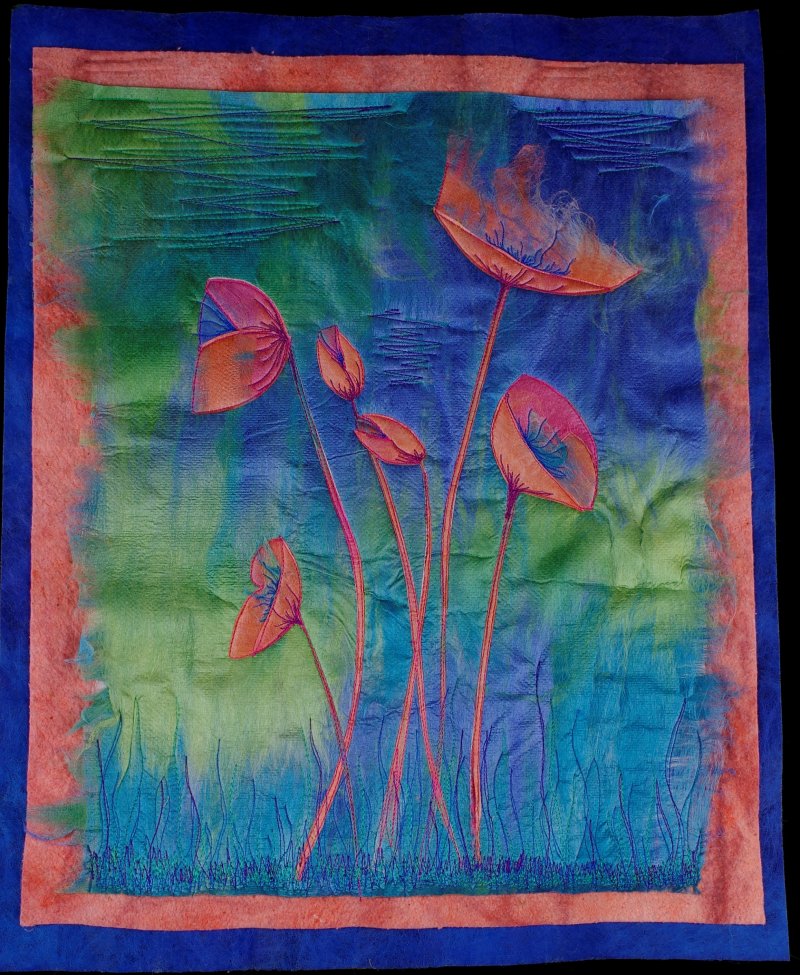 photo above: "Poppies" created by Tamara Leberer, using silk fusion.
Veterans Day is November 11, commemorating the Armistice on the Western Front. On Nov. 11, 1918 (the 11th hour on the 11th day of the 11th month) after more than four years of horrific fighting and the loss of millions of lives, the guns on the Western Front fell silent.
Although fighting continued elsewhere, the armistice between Germany and the Allies was the first step to ending World War I. The global reaction was one of mixed emotions: relief, celebration, disbelief and a profound sense of loss. (thank you National WWI museum for this concise summary)
Poppies, a universal symbol of remembrance, are tied to Veteran's Day. This is mainly because of the poppies blooming in Flanders Field.
From 1914 to 1918, Flanders Fields was a major battle theatre on the Western Front during the First World War. A million soldiers from more than 50 different countries were wounded, missing or killed in action here. Entire cities and villages were destroyed, their population scattered across Europe and beyond. (thank you VisitFlanders for this concise summary)
FLANDERS FIELDS POEM
On May 2, 1915, John McCrae's friend, Lieutenant Alexis Helmer, was killed in action and buried in a makeshift grave. Wild poppies were already beginning to bloom between the crosses marking the many graves, inspiring John to write "In Flanders Fields" the next day.
FREE POPPY CROSS STITCH CHARTS
TinyModernist cross stitch company, owned by wonderful designer Cheryl McKinnon, has a free Poppy chart.
Lucie Heaton Cross Stitch Designs, from England, also offers a free "Lest We Forget" free poppy chart.
To stitch a traditional red poppy, we suggest colors
#12 Pomegranate
#307 Jen's Red
#20 Bordello
#48 Intrepid or #57 Raven Black with grays #54 Slate and #55 Stonehenge for shading.
GROW YOUR OWN
Grow your own Flanders Field poppies with seeds from Kitchen Garden Seeds.
STITCHING DURING WWI
Women have stitched before, throughout, and after WWI. So many stories.
National Museum of American History has "Embroidery under Fire" by Leah Tams