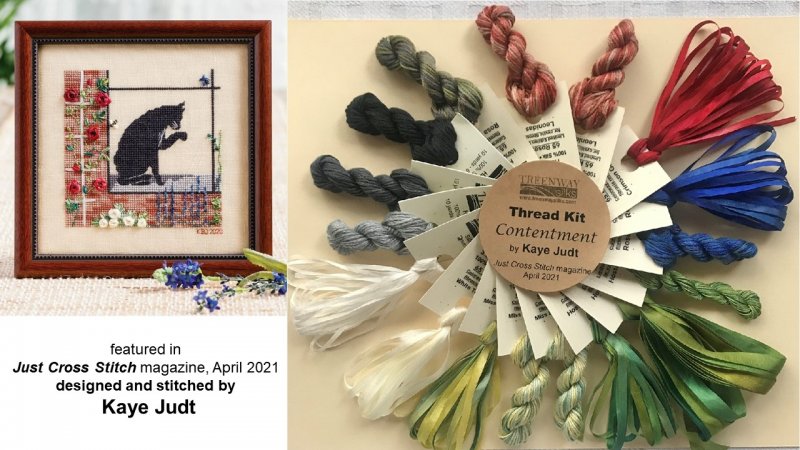 Photo above: Contentment designed and stitched by Kaye Judt, featured in Just Cross Stitch magazine April 2021 issue
Many designers use Treenway Silks threads and ribbons in their creations. We put together Thread Packs which include all the Treenway Silks items for each chart/guide. We do this to make shopping easier for you. Click HERE to all the packs. If I'm missing any thread/ribbon packs, please let me know.
Here's the list of designers who use Treenway Silks (some designers make their own kits, which is why the list below is much longer than the link to our Thread Packs). If I'm missing anyone, please let me know.
EMBROIDERY:
Judith Baker Montano 13+ books (C&T Publishing)
Ruth Chandler Modern Hand Stitching (Landauer Publishing)
Liz Kettle Thread: the basics and beyond (Landauer Publishing)
Allie Aller & Valerie Bothell Quilting…just a little bit crazy (C&T Publishing)
Valerie Bothell Joyful Daily Stitching (C&T Publishing)
Sue Spargo Folk-art Quilts 12+ books (Sue Spargo Publishing)
Berryhill Heirlooms (Susie Gay)
Mama Lohde (Hanne Lohde)
Midway Wool (Jennifer Anderson)
Paint By Threads (Natalie Richards)
Shibori Dragon (Becky Scellato)
CROSS STITCH:
Cherished Stitches (Louise Henderson)
Faithwurks Designs (Nancy Wahler)
Fern Ridge Collections (Pat Cherry & Peggy Tipton)
Handblessings (Eileen Gurak)
Ink Circles (Tracy Horner)
Kaye Judt
Keslyn's Designs (Lynda Keske)
Mani di Donna (Simona Bussiglieri)
Romy's Creations (Romina Petrucci)
Rosewood Manor (Karen Kluba)
Salty Stitcher Designs (Kristi Bernstein)
The Purple Threads (Sharon Verbos)
Threaded Dream Studio (Katrina King)
NEEDLEPOINT & COUNTED CANVAS:
Anthony (Tony) Minieri
BB Needlepoint Designs (Sally Baer)
Bedecked & Bedazzled (Ruth Schmuff)
BeStitched (Lisa Kessler)
Brenda Stofft Designs
DebBee's Designs (Debbie Rowley)
Downing Street Needlepoint (Dodie Jackson)
DuoDesigns (Sandra Arthur)
EMA Needlepoint (Elaine Aidonidis)
Island Stitchery & Studio (Deborah Mitek)
Janeann Sleeman, stitch guide author and teacher
Ka-Tzu, Luis Nunez
Kate Dickerson's Designs
Kelly Clark Studio
Needle Fiber Arts (Connie Lynn Borserine)
Shelly Tribbey Designs
Stitches in Time (Frances Jue)
Terry Dryden Needlework Designs
The Needle Works
The Enriched Stitch (Suzie Vallerie)
Threedles NeedleArt Designs (Kurdy Biggs)
Whimsical Stitch (Mary Legallet)