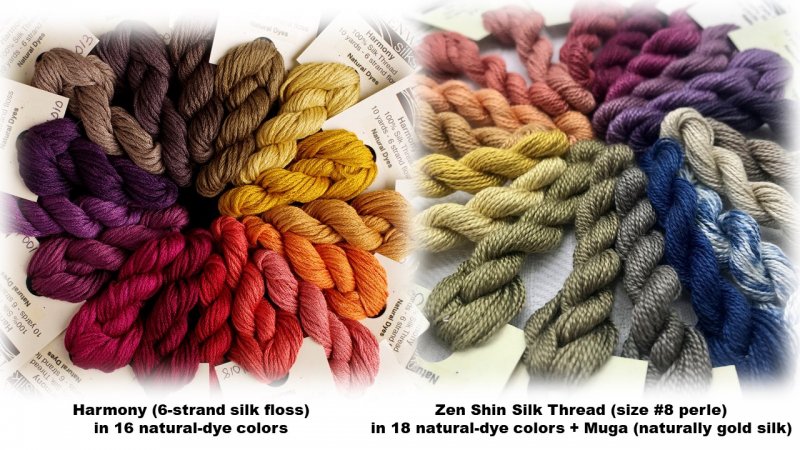 I am often asked "what are natural dyes?" Great question!
NATURAL DYES
Natural dyes use plants, roots, bark, berries and/or insects to create colors. Most natural dyes require a mordant--something that binds the natural color to the silk. Indigo, and a smattering of other natural dyes do not need a mordant.
There are a number of mordants that can be used. Some mordants are toxic. Treenway Silks uses safe, non-toxic, earthy-friendly mordants.
Using a mordant makes dyeing a 2-step dye process. First, mordant the silk. Second, dye the mordanted silk using natural dyes.
Our natural dye colors are dyed in Colorado with natural dye extracts. These extracts are typically powder and may look the same as "other" dye powders (such as the acid dyes we use to dye the rest of our silks). The natural dye extracts are derived from natural sources--they're just concentrated so it doesn't require a warehouse to store the dyestuffs.
Natural dyes can vary in their wash fastness and light fastness. The natural dyes that Treenway Silks uses yield good-to-excellent wash and light fastness.
The imported natural dye extracts that Treenway Silks uses are from responsible, sustainable sources that are organic and fair traded.
LIMITED EDITON SILK THREADS DYED WITH NATURAL DYES
We off two different silk threads in our 16-color natural dye line:
1) Harmony (6-strand silk floss)
2) Zen Shin (similar in size and twist to size #8 perle). Zen Shin has 3 additional natural colors: Indigo, Ikat (white/indigo) and Muga Silk (from a silk worm whose silk is naturally golden color).
We are no longer dyeing the natural dye colors, so when they're gone, they're gone. Most colors are very well stocked. However, some colors have VERY limited quantities.
If you've been postponing getting your set of natural dye threads, now is the time to act!
CLICK HERE to see our ENTIRE selection of Natural Dye threads