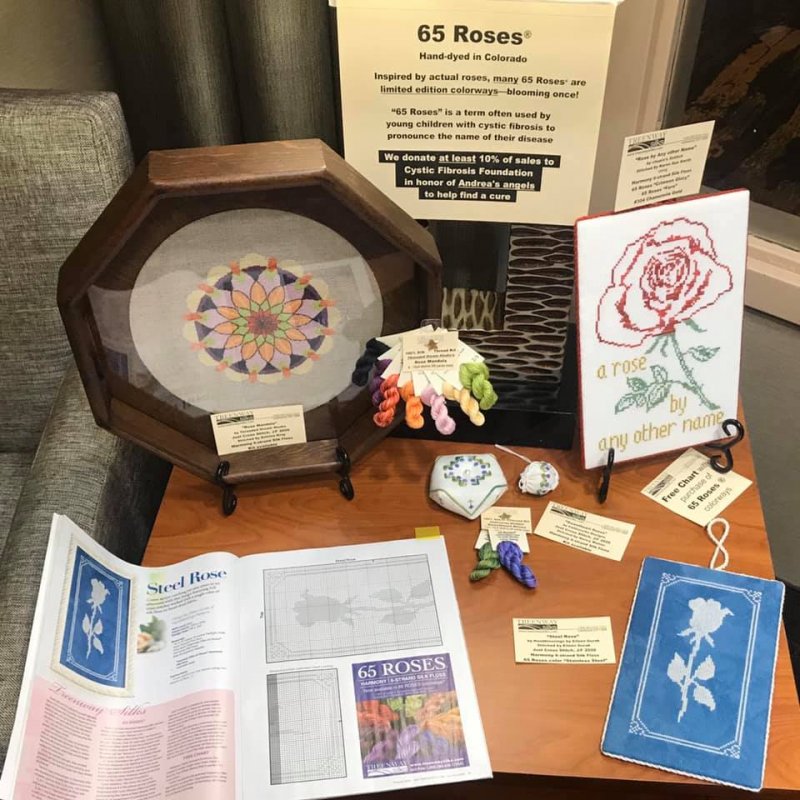 Tanya Fox, editor of Just Cross Stitch magazine, collaborated with us to feature our 65 Roses colorways in rose designs by three designers, featured in the Jan/Feb 2020 issue!
Launched in 2017, 65 Roses is our line of variegated colors that support research for a cure for cystic fibrosis.
The story dates back to 1965 when an observant 4-year-old named Ricky, hearing the name of his disease for the first time, pronounced cystic fibrosis as "65 Roses". Today, "65 Roses" is a term often used by young children with cystic fibrosis to pronounce the name of their disease and is a meaningful symbol to many living with CF.
Treenway Silks donates a minimum of 10% of all 65 Roses items to Cystic Fibrosis Foundation, in honor of Andrea's angels.
Here's what's in the issue:
Page 34: Sweetheart Roses Biscornu and Scissor Fob by Nancy Wahler of Faithwurks Designs.
Nancy already had her piece stitched using cotton floss, but she generously offered to re-stitch it using 65 Roses "Love Song" and "Hosta Garden" to help support our fundraising for a cure for cystic fibrosis. THANK YOU Nancy! Kit available HERE
Page 30...Steel Rose is a beautiful rose silhouette rose by wonderful designer Eileen Gurak, Handblessing by Eileen. Eileen had created this design and then collaborated with TreenwaySilks to create the "whisper" colors of 65 Roses "Stainless Steel" colorway. Kit available HERE

There's also a story about Treenway Silks and the story behind the 65 Roses colorways on the bottom half of the page.
Page 32: Katrina King, Threaded Dream Studios, has a creative interpretation of a rose motif...a rose window from Paris' Notre Dame Cathedral. She had the inspiration just days before the tragic fire in Paris, April 19, 2019. Kit available HERE

The center is 65 Roses "Vanity" colorway and then she uses seven coordinating TreenwaySilks hand-dyed solid colors.