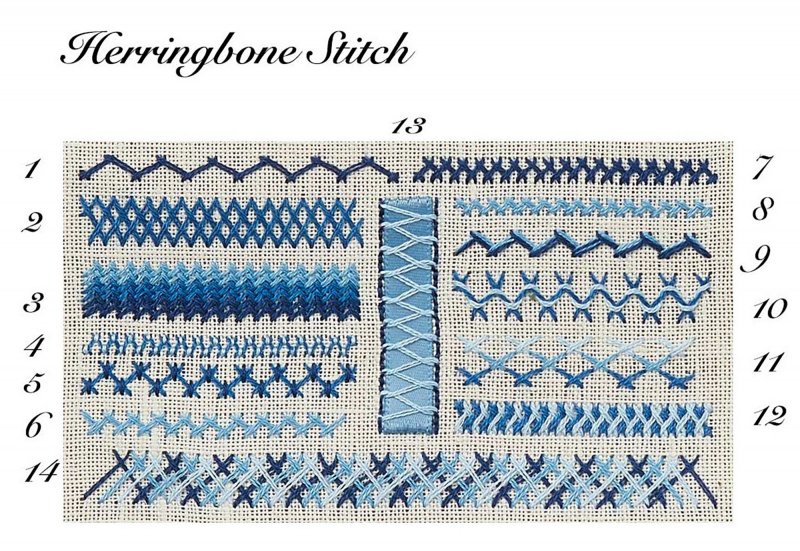 above: Herringbone Stitches by Deanna Hall West; photo credit: George Boe, courtesy PieceWork magazine.
PieceWork magazine celebrates the rich history of needlework and makers from around the globe. As Veronica Patterson, the founding editor, said:
"For their hands tell a story,
and the works of their hands tell a story--
each thread connecting us to those who came before.
And the story endures."
I've loved this magazine from its first issue, March/April 1993. Especially the stories on stitching.
Deanna Hall West, incredibly talented and who I had the privilege of meeting a few decades ago, writes "A Stitch in Time" series for PieceWork. As of this writing, Deanna has 20 articles in the series. Each article covers several related stitches, the history and step-by-step illustrations.
Deanna's newest article, Herringbone Stitch, includes 14 variations of the classic Herringbone stitch.
The stitch that really captivated me was her interpretation of Ladder Herringbone as a foundation for ribbon insertion. That's a mouthful, but you can see it in the center of the sample stitches above (#13) and in Figure 8 in the article [see figure at the bottom].
My first thought was "wouldn't this be a great way to showcase our 13mm ribbons in our 65 Roses variegated colorways?!"
Deanna's article was published May 30, 2022...today is July 8th, but do you think I made time to try it?! No, but a girl can dream, right?! Maybe a little basket of ribbons, threads and needles should accompany me on my trip. Check in next month to see if I was able to carve out a bit of stitching play time.
If you get a chance to do some play stitching with herringbone, send me a photo--I'd love to see it!
If you want to give it a try, here are the links to 13mm silk ribbons and 7mm silk ribbons and links to Harmony 6-strand silk floss and Tranquility (fine silk cord).