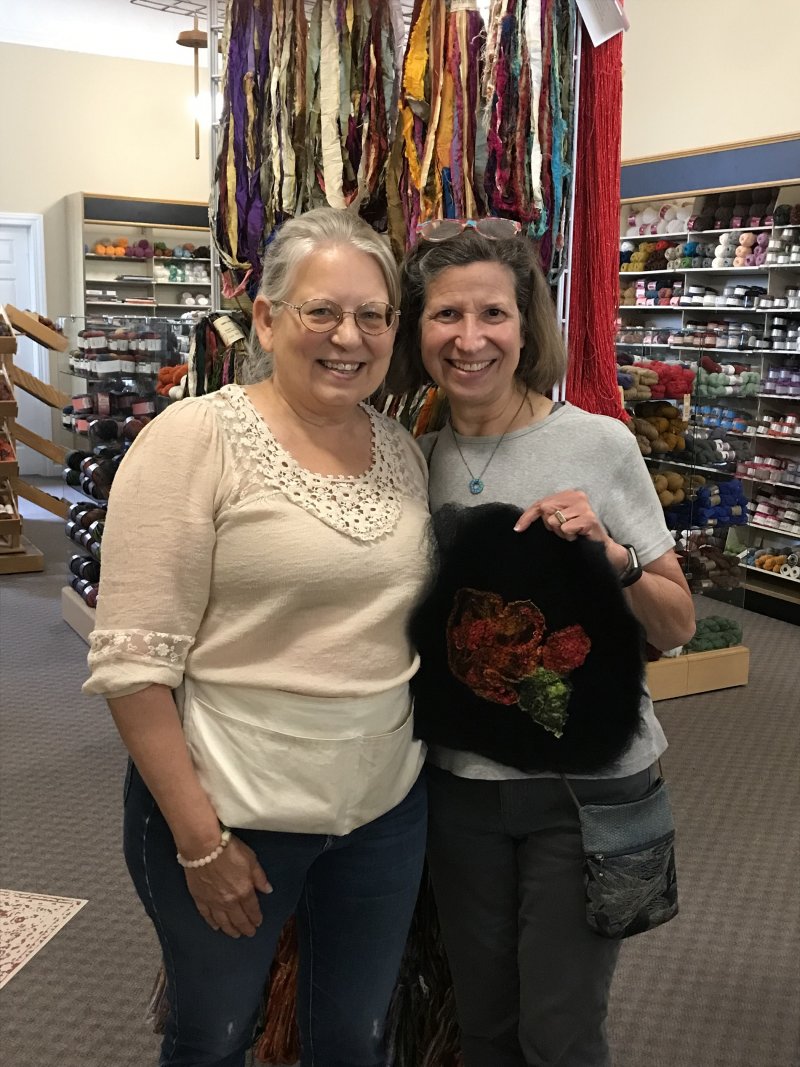 On my way home to Colorado in July, Sherri Duey, owner of Fiber Art Shoppe in Albia, Iowa, emailed, inviting me to stop in for a visit. Oh my, what a fun and fabulous shoppe--I'm so glad Sherri reached out!
Sherri, is *SO* creative and she's full of energy and smiles. Sherri has invested in a felting machine (not the felting foot on a sewing machine) and she's found so many creative uses for it.
Sherri had laid out fibers so we could play with the felting machine. Black merino on the bottom and then hand-dyed silk hankies, a bit of throwsters silk and silk carrier rods, artfully arranged to create abstract flower and leaf. Then into the felting machine! [photos below]
The first couple passes require careful attention to keep the silks as positioned. After that it's pretty easy (easy enough that I could do it!) It's an art form to know how many passes to make. I was having so much fun that I passed it through a few more times than necessary, so I have a flatter piece.
Sherri teaches a lot of classes, including weaving, knitting, felting, and has started community-building with Spin-In on Sundays. The shoppe is on the town square and is quite large.
Sherri and her husband Bill have a full time job managing their farm, alpaca herd, and white homing pigeons. This means her "standing hours" for Fiber Art Shoppe are limited, but she's flexible and available by appointment.
I loved seeing such creative energy in small town Albia, Iowa. Midwest Weavers Conference 2023 will be in Des Moines Iowa, just an hour away. I highly recommend stopping in on your way there and back. Even better, make Fiber Art Shoppe a destination trip and sign up for a class.