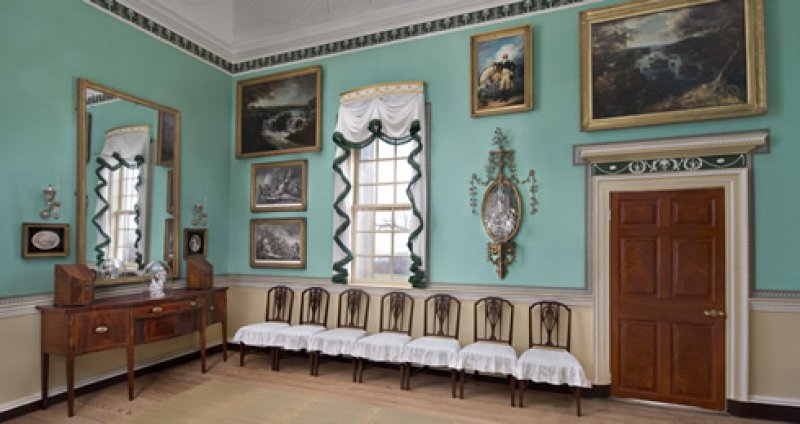 Photo caption: Mount Vernon's New Room, photo courtesy of www.mountvernon.org
If any of you are traveling to Virginia to take in the historical sites, be sure to notice the new drapery trimmings in the New Room in Mt. Vernon.
Treenway Silks is proud to have been a part of this reinterpretation.
In mid-January 2014, while traveling back from a TNNA show, we received a call from the Adam, Assistant Curator at Mt. Vernon. He had been searching for someone to color-match silk yarn, which would be made into incredible passmenteries by Ellen S. Holt.
No pressure but the grand re-opening of the dining room was less than 3 months away! The passmenteries (drapery trimmings) typically take 15 weeks or more to make.
We received samples of the yarn and colors needed. The yarn used is Kiku (20/2 spun silk). Our colors #211 Triumph Green and #303 Beehive Gold were perfect matches so we were able to start dyeing immediately.
Betsy, our dyer with 40+ years' experience, embraced the challenge of perfectly matching the color across seven dye pots. And she did it perfectly!
We wound skeins and skeins (43!) of silk onto cones and sent the last off to Ellen S Holt, less than 3 weeks after our initial phone call with Adam. Ellen and her team worked around the clock and sent off 11 yards of the glorious 3.5-inch trim to Mt Vernon on March 7, 2014.