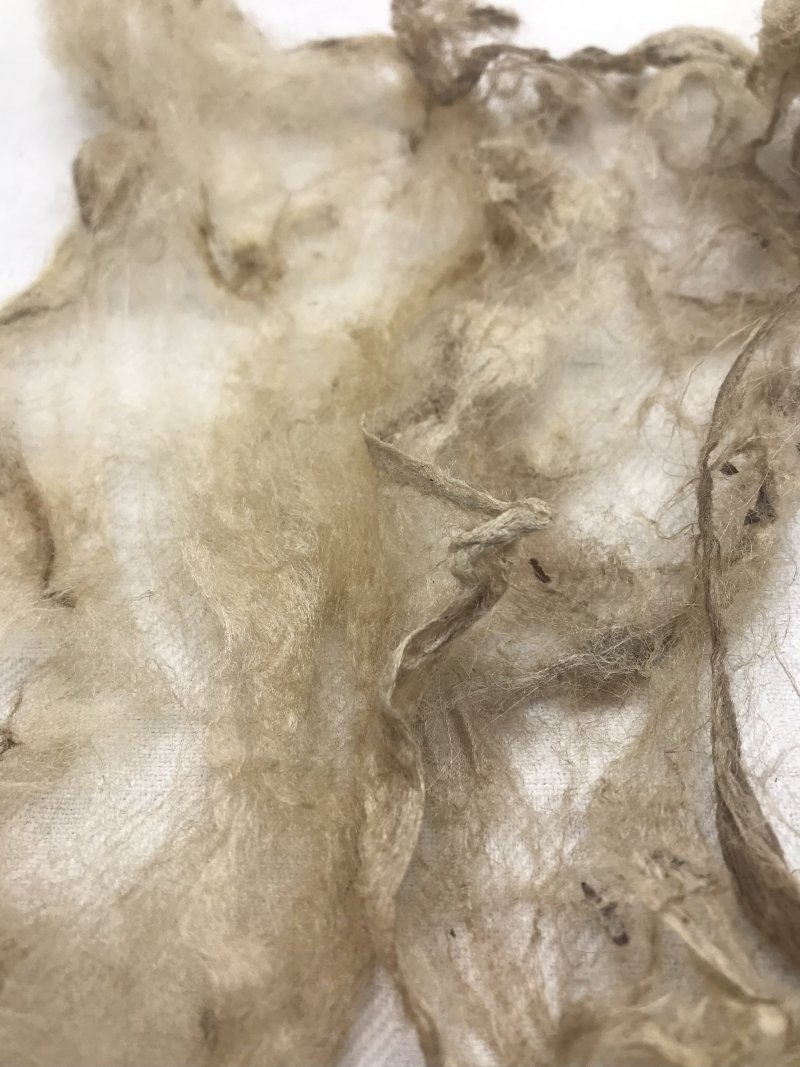 A single mawata pulled from the cake; Daba Tasar (left) is lighter than Raily Tasar (right)
See more photos in gallery at the bottom
*updated July 25, 2022: I've corrected the spelling of "Relly" to "Raily". Thank you Karen Selk, Treenway Silks founder emeritus. Karen is publishing a book on wild silk, due January 2023. We are excited and can't wait!!
We are so excited to introduce these two **new** varieties of organic wild tasar mawata cakes from India!
What is tasar? (various spellings: tassar, tussar) It's wild tussah from India. According to my intelligent and very trustworthy silk guy in India, there are TEN types of wild tasar silk worms in India.
Daba tasar: this variety is reared in halls of Arjuna plant farms by local tribal people. The cocoons hang from ropes via their peduncle (silk connecting "stem"). There are 4 crops per year. The natural color of the silk is golden. [see photos below]
Raily tasar (sometimes misspelled as Relly or Rally): this variety is reared deep in the forest in the Bastar tribal region and is totally dependent upon nature. The tribal people watch over the silk worms, to protect from predators. When ready to spin cocoon, these silk worms first spin the peduncle (brown silk "stem"). There is just one crop/generation per year. Raily tasar silk is stronger than daba and a deeper gold.
Both varieties of tasar are "hard" cocoons. If you compare these cocoons to Bombyx, Chinese Oak Tussah, Eri or Muga cocoons, you will understand how "hard" they are. This is first time these tasar cocoons have been used to make mawata cakes.
As mawata cakes, it can be a challenge to see the difference in color. I teased out one mawata of each variety--now the difference in color is quite apparent. See photo below (Daba on left, Raily on right). "Puffing" a single mawata before teasing the fiber helps.
You can feel the "wildness" of this silk compared to bombyx silk mawata hankies. The tasar silk take a bit more effort to tease out, partially because the remaining sericin makes the tasar silk stiff. And you may find bits of leaves, pupa, etc., that need to be carefully picked out.
But to get two gorgeous colors of tasar silk to spin and use in your project--worth every bit of effort!
2022-Sept-16 update: SPINNING the MAWATAS CAKES--different people's experinces
Spinner Jeannine used a spinning wheel, which she felt would be easier than a spindle, so that she could use both hands. Jeannine used a lot of twist, then plied with hight twist also. Jeannine spun a "heavy yarn" for her--something when plied would be about a 8/2 silk.
Jeannine found that if she teased the silk, she would get a smoother yarn. When she didn't tease the silk, the hard edges created slubs. Also, there are shorter fibers with these mawata cakes and these wanted to make bumps in the yarn.
Jeannine also noted that the color is slightly darker when she just did the minimum to open up the fiber so it would draft. Jeannine also commented that she didn't feel the tasar was as dirty as my description had indicated. She didn't remove, but just slightly opened the cocoon bits that are darker. She didn't notice any real difference between the color or the hand of the daba and raily tasar silks.
Spinner Anita and Spinner Anne worked together. They each found spinning the wild tasar mawata cakes significantly different than spinning bombyx hankies. Each of them had a very difficult time separating a single layer from the cake. Then teasing out the silk to spin was a challenge, as the edges are stiff. Plus the shorter fibers fell away, causing waste.
They tried washing the mawata (hot water) to try to remove more sericin, to see if that helped...it did but only marginally. Bottom line, it was a lot of time for just a little bit of spun/plied silk. However, the chance to spin wild silk is intriguing so they're going to continue trying. They will share their tips.
Click HERE for Daba Tasar Mawata Cakes
Click HERE for Raily Tasar Mawata Cakes
Email info@treenwaysilks.com with your spinning experience and we will share tips in August 2021 I Love Fibers newsletter.