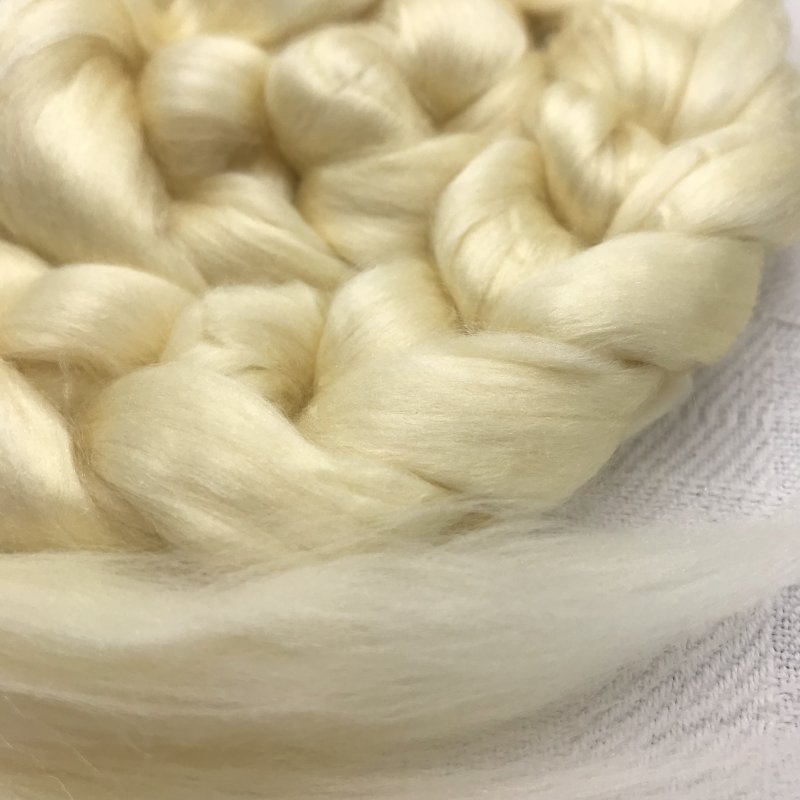 Naturally yellow bombyx silk can be found in several southeast Asian countries. We received ours from India, near the area that produces Eri and Muga silk. The locals call it Nistari.
Nistari is a different race than its white Bombyx mori counterpart. The color is NOT caused by the food it eats--Nistari silkworms eat mulberry leaves, just like the white bombyx mori silk worm.
Our Indian Silk Guy says that Nistari is the finest bombyx in all the world. "Regular" white bombyx silk is 15 microns, while the Nistari is 12-13 microns.
Nistari's fiber length is 5-6 inches (13-15cm)
The cocoons are a brilliant chrome yellow (see photo below). But the natural yellow color is a bit fugitive...by the time the silk is processed into sliver, much of the intensity of the color has disappeared, leaving a lovely, soft butter yellow.
We recommend washing in COLD water. Wash by itself. Do not use any soap with whiteners, bleaching agents or hydrogen peroxide as these will lighten the yellow color.
Nistari bombyx has a slightly different feel than our white Bombyx sliver from China. The Nistari doesn't feel quite as "slippery" as the bombyx from China.
John Mullarkey and some of the 2022 SOAR (Spin Off Annual Retreat) attendees spun our Nistari bombyx. They each said it spun beautifully and was easier to spin than either our white or hand-dyed Bombyx silk from China. I suspect that's it's as much about how the silk is processed into sliver, as well as the difference in the bombyx silk. But more about that when we introduce our white Bombyx silk from India.
To see Nistari, click here