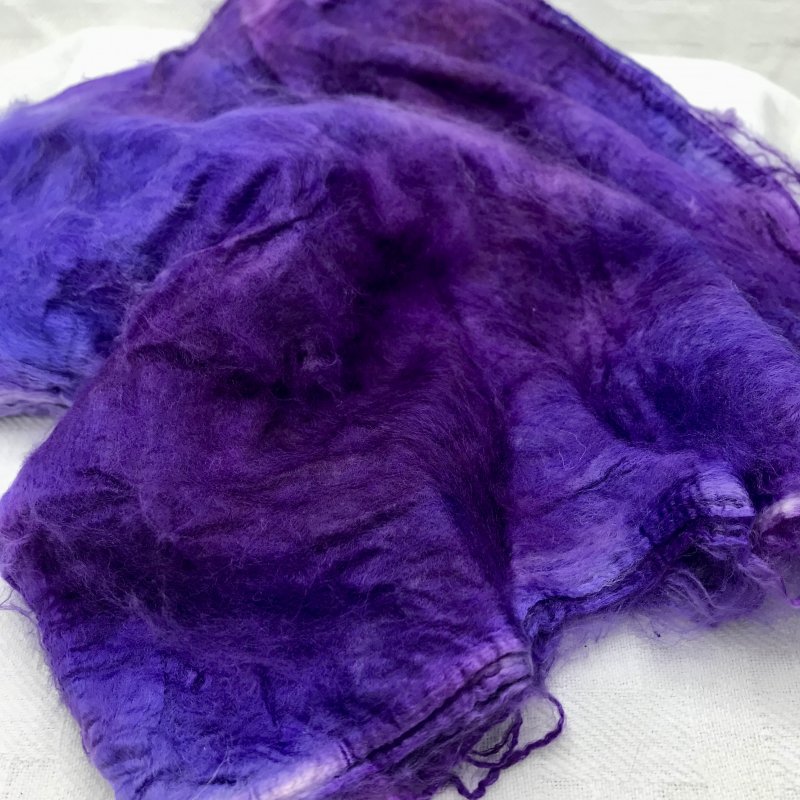 photo above: Hand-dyed silk hankie (aka "mawata") in Mountain Majesty colorway.
What is a silk hankie? Good question! It's NOT a woven handkerchief to use on your nose!
Hankies (also known as mawata) are made from a single cocoon, stretched into 10-inch square.
A single hankie, which is light and airy as a spider web, is made from a single cocoon and weighs between one-third and one-half gram.
Are you a visual person? Watch our YouTube video "Treenway Silks--Silk Hankies" to learn a bit about silk hankies...how to handle them, ideas for using them. I'm not sure why an ad shows up first...Treenway Silks doesn't benefit from this and prefers to be ad-free.
In the center area of the hankie, the silk filaments criss-cross in all directions, bouncing the light in many directions. The filaments along the "selvages" are parallel, concentrating the light reflection, making the selvages shinier than the center.
Gently pull apart the delicate 100% bombyx silk layers and attenuate each to knit it unspun or spin it into fine singles.
Gather a few hankies together for silk fusion or add them to your wool felting projects.
This summer we had a chance to play with dyes and hankies. We only have a few of each color.
CLICK HERE to see all the dyed hankies.
We'll have another hankie-dyeing play day when it gets warmer, so check back periodically.