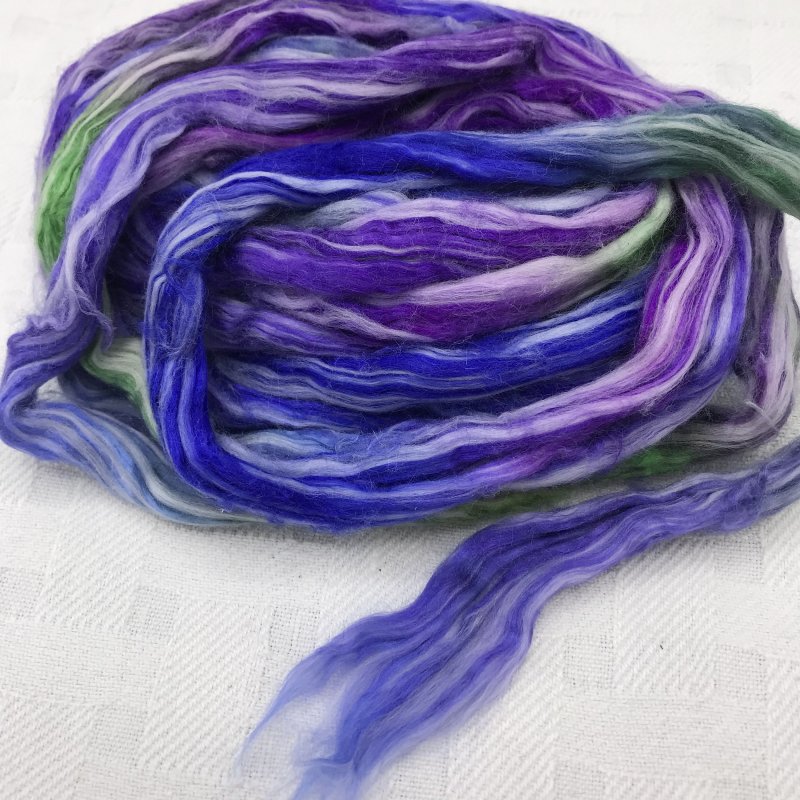 We had a chance to play with dyeing some silk and silk/blend sliver this month. Based on your votes, we dyed 55% silk/45% cotton sliver.
Our new shipment of 55% silk/45% cotton sliver has a short fiber length (1-inch to 1.5 inches) as you would expect from cotton [see photo at bottom]. This silk/cotton as a lovely sheen--similar to our silk/cashmere blend. But it's so light and airy that it will come apart if you just look at it wrong!
We wanted to see how it would handle the dye process, as the silk/cotton has such a different feel from our A1 quality Tussah (6" fiber length) and A1 quality Bombyx (5-6" fiber length).
We first dyed just 100g, to see how it handled. We were successful (Lupine Meadow), so then we dyed our typical 250g (Ruckle Park).
The first difference we noted is winding the bump into a 250g "skein" for dyeing requires extra-gentle handling. If there is ANY pressure on the sliver, it will break.
We always wash our silk before dyeing, and then dye while the fiber is damp.
The second big difference is the cotton takes MUCH longer to be fully wetted out [see photos at bottom]. It takes 1-2 hours to fully wet out our A1 quality Tussah (natural) and a little less time for our bleached tussah. The silk cotton took many hours. I was busy that day so I didn't time it exactly, but I estimate it is a minimum 4-6 hours.
Surprisingly (well, surprising to me, at least) is the silk/cotton sliver became easier to work with once it was wet. We found this was the same with bombyx silk. Silk/Cotton sliver still requires care, but we could handle it as we handle our wet tussah and bombyx silver.
We dye our silk using acid dyes. Acid dyes will dye protein fibers, so silk, wool, alpaca, etc. Acid dyes do not dye plant fibers, such as cotton or retted bamboo. We dye our silk-blends "as if" silk, using the same dyes and procedures.
Therefore, only the silk dyes in our 55% silk/45% cotton blend. It makes for a "stripey" dyed sliver, but the silk and cotton blend together nicely when spun.
Spinner Kim spun a bit of the dyed silk/cotton [see photo at bottom]. Kim used a walking wheel (aka great wheel), using low tension spinning off the point.
Kim loved spinning our silk/cotton blend--she later confessed that she typcially doesn't enjoy spinning cotton! The 55% silk in our blend made the difference.
Kim believes that a chakra or little Russian spindle would also give great results with this short fiber length silk/cotton blend.
You can also spin the Silk/Cotton on an e-spinner, as demonatrated by Staci at SOAR 2022 [see photo at bottom].
Here's the link to our dyed silk/cotton sliver (and a few "other" silk sliver we've dyed, other than tussah)